by Drew Hackett
Every kid is thrilled to just catch a fish. Type and size is of little importance. Kids just want to see that bobber go down so they can get to cranking. However, as that kid grows so will the desire to hook into a reel squeeler, the type of fish that burns your biceps and turns your knuckles white.
A few weeks ago I asked my son what he wanted to do the upcoming weekend. His answer, "I wanna go after a big cat." Now there's certain moments in a father's life that makes him fill up with all sorts of warm and fuzzy. This was one of those times. "The boy wants to sit on a bucket by the river all weekend. What great aspirations!" I thought to myself.
We headed to where I felt we had the best opportunity locally, Linn Grove dam on the Little Sioux River. We arrived late Friday night, quickly set up camp in the dark and bolted down to the river to bait up. I was able to stop the dude before he cut up his bait. "Put the knife down before you ruin that blugill" I said.  "Um, huh?" said the bewildered power dude. "Bigbaitbigfish" I grunted in one word. "Just cut the gut open and stab the whole thing on." The dude chuckled, "this thing's like 8 inches long…" After a bit of bantering back and forth I told him to make two fists. "Those fists will fit into the mouth of the cat you're after." That pretty much ended that. The gill went on whole.
Instead of fishing below the dam we positioned ourselves in the narrow channel exiting the pool. I'm not real convinced the big channel cats lay around inside the scour all day. I think most of them have holes down stream and head to the dam at night to feed. My reasoning behind this? Because at Linn Grove there is nothing short of 15 people fishing the pool at any given time during the day. If a spot goes empty another fisherman fills it immediately! They fish it like it's their job. I couldn't find a time clock but I'm pretty sure they were taking shifts. So with that many hooks in the water there should at least be a few big cats caught during the day, which usually just isn't the case. With that in mind, we decided to fish the entrance channel trying to pick off one that might be heading to or from the pool. Also, If you put out enough lines they're sure to hit one of them on their way through that narrow.  It's kinda like working a funnel while deer hunting.
We sat there for about an hour with the Dude fidgeting with his flashlight every few seconds. "You under distress?" I asked. "Distress? What… no, why?" he wondered. "Because you've been signaling SOS across the river for the past half hour. No need to check your pole, you'll know it when it happens" I explained. Then right on queue it DID happen – REEER RER REEER! The dude jumped up and set the hook into what he later described as "the bumper from a Chevy Silverado." A furious 5 minute fight ensued with neither young man nor fish gaining ground. Then the heart sinking "SNAP" gave way, sending the dude stumbling backwards as if the opposing side of the tug-of-war rope just let go. "AH NOOO sassafrassa$#&* I can't believe it!" After investigating the line we felt maybe it was either a toothy critter or a rock that clean cut the line. Either way, it was officially on for the following night. We headed to camp slightly bummed out but not deterred.
Our plan the next morning was simple – get up and fish before the morning shift began. The morning started promising indeed! There in the dark we had the whole place to ourselves. As the sun rose we noticed people began piling in. It was like a scene from the "Walking Dead." You think you're in a safe area then 1 by 1 zombies smell blood and slowly make their way to you. We were surrounded! With 3 of them coming up my right flank I bolt left only to be cut off by an ear grabber! He pumped me full of so much BS about the huge walleyes he caught that morning I had no option but to retreat to the rendezvous point. After assessing the situation we decided to cook up the few small cats we caught that morning and wait it out until dusk. Surely some of these guys had wives to get home to!
We fished a bit downstream early evening and made our way to the pool after dark. This time we had a 10" freshly caught sucker for bait. The dude cut about a 4" section out of it, stabbed it on his hook and heaved it into the dam's eddy.
A 5 hour rot-fest ensued. This did not deter the dude, he knew there was a big one in there and was willing to wait him out as long as it took. At about 2 am the catfish gods were appeased enough with our effort and summoned a bite that literally ripped the pole holder out of the ground! The dude quickly pounced on the pole and reared back like he meant it! What ensued was a fight for the ages. The kid has caught some nice fish before, but nothing compares to a ram snorting fat river cat!
I offered up the role of ringside coach. "You gotta stick and move, you gotta tire him out, see. Let him go on those runs and when he tires you turn him around and ease him in. Keep the pressure on him." We battled that fish the rest of the night (minus the rest of the night). I swear I felt the river level drop when I lifted it to shore. Official weight – 16 tons! What a fish!
All BS aside, there's moments we chase when we're out doing our hunting and fishing thing. For some people it's arrowing a monster buck, for some it's the serenity of just being there. All of it is great, but the best for me is times like this. When that thing happens that makes time stand still. When the only sound is the river and the hooting and hollering of a 14 year boy that just landed the fish of his life.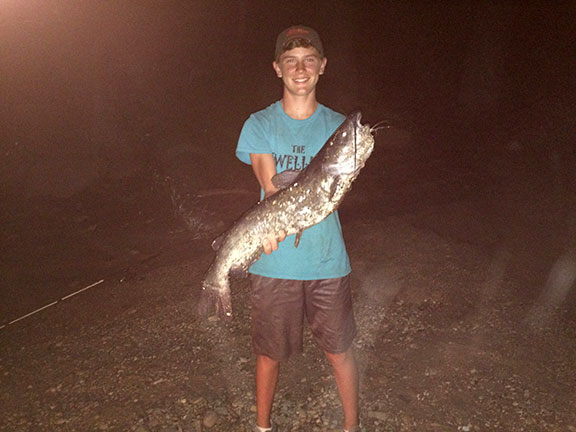 [wwcAmzAffProducts asin="B00S1F3YJK"][/wwcAmzAffProducts][wwcAmzAffProducts asin="B011LVDTRM"][/wwcAmzAffProducts][wwcAmzAffProducts asin="B011LVDHXI"][/wwcAmzAffProducts][wwcAmzAffProducts asin="B011LV7B4O"][/wwcAmzAffProducts][wwcAmzAffProducts asin="B00XIW10RO"][/wwcAmzAffProducts] [wwcAmzAffProducts asin="B0186UXYO4″][/wwcAmzAffProducts]
[wwcAmzAffProducts asin="B00QS0ESHC"][/wwcAmzAffProducts]