By Steve Weisman
As we head into August, duck hunters are already making plans for this year's duck seasons. This will be the third year of the special statewide teal-only season, and with it come some interesting changes. For the first two years, Iowa took advantage of the entire 16-day season and began the first weekend in September. Last year, for instance, that season ran from September 5-20 with the first year from September 6-21. This season was a TEAL only season.
According Orrin Jones, Iowa DNR Waterfowl Research Biologist headquartered in Clear Lake, there will be some changes this year. Instead of the entire 16-day teal season, this season has been shortened to nine days and will run from Saturday, September 3 through Sunday, September 11 for both the North and South Zones, while the Missouri River Zone will run from September 3 through September 18.
This will then be followed by a short duck opener, followed by a break and then the remainder of the regular season. Here is how it breaks down by zone. During this shorter duck season all species of ducks can be bagged.
By Zone
In the North Zone, this season will run from Saturday, September 24 through Sunday, October 2, followed by a break until Saturday, October 15, when the regular duck season opens and runs through Sunday, December 4.
In the South Zone, this short duck season runs from Saturday, October 1 through Wednesday, October 5 with the regular season running from Saturday, October 22 through Thursday, December 15.
In the Missouri River zone, there is a two-day short duck season from Saturday, October 8 through Sunday, October 9. This is followed by the regular season that runs from Saturday, October 22 through Sunday, December 18.
Why the change?
This was the first question I had for Jones. Why the change? His response was. "What we are trying to do is balance season dates to give duck hunters the best duck hunting opportunities." According to Jones, Iowa is given certain options by the U. S. Fish and Wildlife Service under which the DNR can construct its waterfowl seasons. The regular duck season is set at 60 days, but the teal season actually gives hunters up to an additional 16 days on the water. However, according to surveys, Iowa's duck hunters are varied and there is a range of different times during the fall that they like to hunt.
Jones says, "We try to take as many things into consideration that we can to address hunter concerns and to find a good balance. Before we began the experimental season, we surveyed Iowa's duck hunters. At that time, 60 percent said they supported a teal season, 20 percent were opposed and 20 percent were neutral. After the 2014 season, we conducted the same survey and found that 50 percent supported the teal-only season, 25 percent opposed it and 25 percent were neutral."
For instance, there are those hunters that relish the opportunity to spend 16 days targeting the early teal migration, there are others who really enjoyed the early duck season we used to have in the North Zone in September and there are the diehard duck hunters that relish late season duck hunting. As a result, there has to be some give and take. "When we try to balance season dates, we look at migration patterns, harvest numbers, hunter desires and hunter participation," notes Jones. From that data, the season framework is designed.
What this year means
Jones says, "We are in the third year of this experimental teal season framework. We could once again design a teal only season that can run up to 16 days, which we did for the first two years. However, we know we have a segment of hunters that really enjoyed having that September short duck season during which they could hunt all species of ducks. So, this year, we shortened the teal season on both the North and South zones to nine days and instituted an early nine-day duck season the North Zone, a shorter five-day season in the South Zone and only a two-day season in the Missouri River Zone."
So, this gives another option for Iowa's duck hunters to try. After this hunting season, there will be more hunter surveys and data will be collected from all three years of the early TEAL only season. This information will all go into making future decisions.
A forecast for 2016
The best I can say about this is nothing is guaranteed. As Jones says, Mother Nature, the migration and the migration patterns are the true barometer as to how successful the season will be. If the right northwesters take place in Canada and the Dakotas, we will have some great duck hunting. If not, it will most likely be a trickle down migration with a lot of days of empty skies.
Jones does say that the northern two thirds of Iowa has good water conditions. This is especially true in the northern tier with summer rains continuing to keep sloughs and wetlands full, along with standing water from time to time in area fields. The good water conditions led to an excellent population of local ducks, and Jones said the hatches have been good.
Unfortunately, the southern third of Iowa, from I-80 south, was dry for much of the spring and summer. However, you never know when a weather system can roll through and drop several inches of water. Best bet as we head into late August is to begin scouting out your favorite hunting areas.
As hunters have found over the past two years, most of the migrating blue-winged teal relate to shallow water, mud flats and smaller wetlands, especially those with heavy vegetation. They love the seeds and gorge on them to prepare for their next push south. If the shallow water areas have dried up, then hunters will head to the next size sloughs.
As for equipment, it is relatively simple with only a few decoys needed. Most hunters use some of their mallard decoys, mostly hen decoys, because the blue-winged teal drakes will not be in full plumage yet. Other hunters will use teal decoys to make the spread as realistic as possible.
On a personal note
I've duck hunted here in northwest Iowa for the past 38 years, ever since I moved here from South Dakota. I have tried the teal-only season, and although I enjoyed it, our hunting party was only able to get into good teal action a couple of times. I do feel that hunting the areas that we did spooked a lot of the local ducks away so that when the regular season began, we were pretty short on duck numbers.
I am hoping that doing the three-season mix this year will favor all duck hunters: those that love early teal action, those that like the early duck season and the late season enthusiasts. Only Mother Nature holds the answers!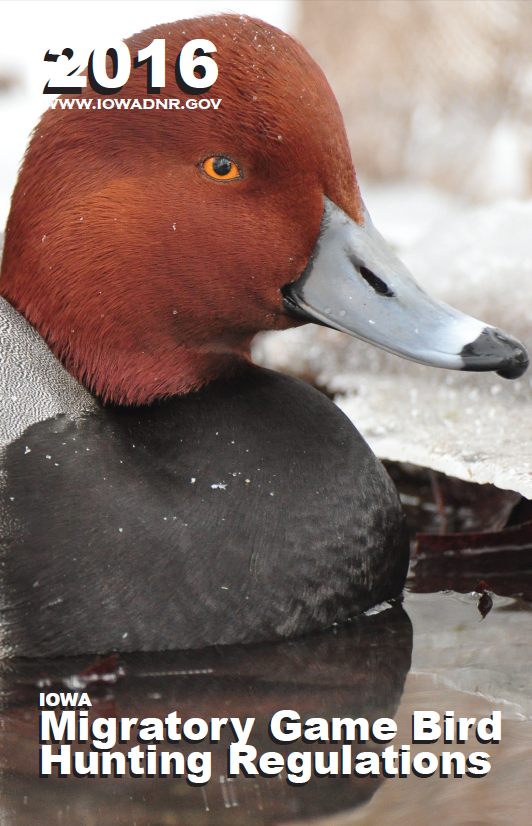 Click to download the regulations
[wwcAmzAffProducts asin="B00K34RD4E,B001COY80G,B002L9DUXM,B000PW7970,B003YM6VX6,B00U0YSW5G,B002031BIU,B01ACZ2SCU"][/wwcAmzAffProducts]