By Darial Weisman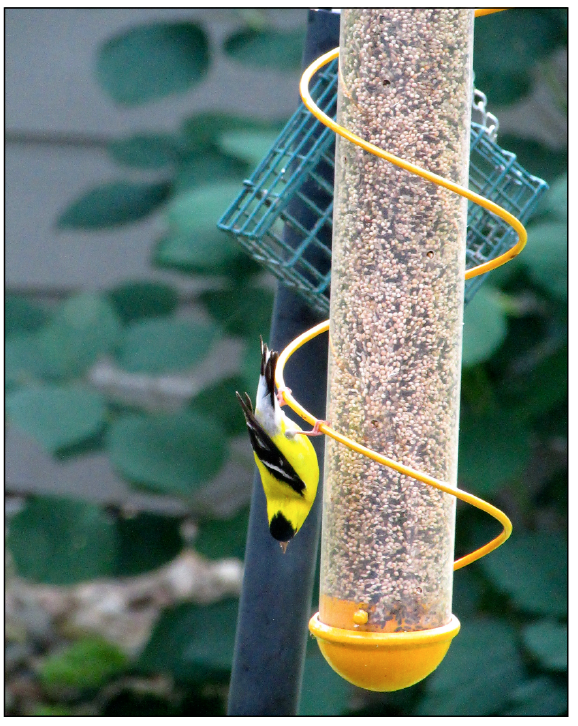 Over the past several columns, we have talked a lot about types of feeders, seed, water and protection to feed the birds. Now, as we enter the winter season, we need to keep a close watch on our feeders and bird waterers. Here we are in mid-December and we have already had two major snow events.
When this happens, it is important to make sure that feeders are cleaned out and old seed replaced with new dry seed. This especially holds true for platform feeders. For example, after each of our recent snowstorms, our platform feeders had at least eight inches of snow on them. What my husband and I did was to dump out all of the seed and start over. We have found that if you don't, the flip flop from above freezing to below freezing temperatures makes it difficult for the birds to get their seed and also leads to wet and soft seeds. Plus, the seed dropped on the ground goes quickly as the squirrels and ground feeding birds pick up the excess.
House-type feeders can also become clogged with snow, especially if there is a lot of wind whipping the snow around the feeder. When we clean the snow out of these feeders, we will first open the lid and take out the dry seed in the house itself until we get down to the seed that is wet. Then it's dump the wet seed out, make sure all of the feeder holes are clean and dry and then replace the seed in the house.
Taking pictures
This is something we have never really talked about, but taking pictures is a hobby my husband and I thoroughly enjoy. When we designed our feeding area, we did so that everything is within 10-15 yards of our windows. In that way, we can be right in the sunroom on the south side of the house or in the living room off the west deck and clearly see all of the action.
Years ago before the advent of digital cameras, we didn't take a lot of pictures. It cost money for both film and developing, and you never knew if you had a good photo or not. So, when we did take photos, we ended up with multiple repeats, just to make sure we had a good one.
With digital cameras, we can shoot away, look back at the photo and determine if we want to keep it or not. Since it costs nothing to take a photo and then delete it if we don't like it or have too many multiples of the same scene, we can quickly delete whatever we want from the memory card.
Each season brings different scenery, different birds and different "poses." Since our memory cards hold hundreds and hundreds of photos, we'll keep them for a while and when we get time, we can put them in a folder and label them, say, by the season or even month. We then will use our laptop and put them on our big screen television in a slide show mode. What a way to keep memories close to us!
This is also a great way to get the grandkids involved. At first, their photos may not be the best, but that's ok. The only way to learn is to practice. With a digital camera and a good memory card, it really doesn't matter. Plus, they can look right away to see what their photo looks like.
Here is a sample of some of our favorite photos. We have them for as long as we want! Give it a try, and I think you will see how entertaining this hobby can be. One last thing. If you have a cell phone with a camera, you can use that. We both have the latest I-Phones, which take amazingly good photos. The nice thing about the cell phone is that you can send right away as a text message or to an email address.