By Steve Weisman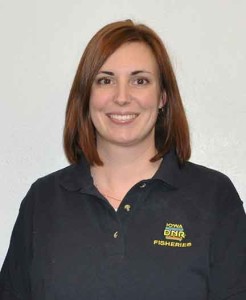 Kim Hawkins, who has been with the Spirit Lake Fish Hatchery (SLFH) for the past 14 years, recently accepted the position of the Natural Resources Fisheries Biologist position at the hatchery.
According to Jay Rudacille, Warm & Coolwater Fish Culture Supervisor with the Iowa DNR, says, "Kim brings a diverse multitude of fisheries experiences to this Team Leader role at SLFH.  I am excited for Kim and for the future of the SLFH under her leadership."
Hawkins attended Iowa State University, where she received her Bachelor of Science degree in Animal Ecology (emphasis in Fisheries) in December 2001.  During that same year, Kim began her career in fisheries and spent nine years as an integral member of the hatchery team and was involved in every aspect of fish production.
In 2010, Hawkins had the chance to join the Natural Lakes Research team at the SLFH. Rudacille says, "Working as part of this team not only allowed Kim to more fully develop her technical skills, it also afforded her the opportunity to expand her computer, writing and leadership skills."
Hawkins shared her excitement about the new position. "I am excited to be rejoining the hatchery crew as the team leader. I look forward to being part of a great team that has a passion not only for producing walleye, muskie, and northern pike for the people of Iowa, but also in assisting in the DNR's mission; to conserve and enhance our natural resources to improve the quality of life in Iowa and ensure a legacy for future generations."
Additionally, Kim is an active member of the American Fisheries Society and has served as the editor of Lateral Lines for six years.