by Clark Schmitz,
Brunsville, IA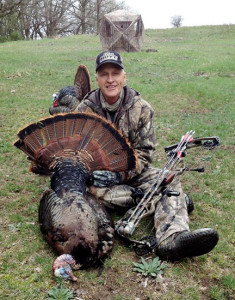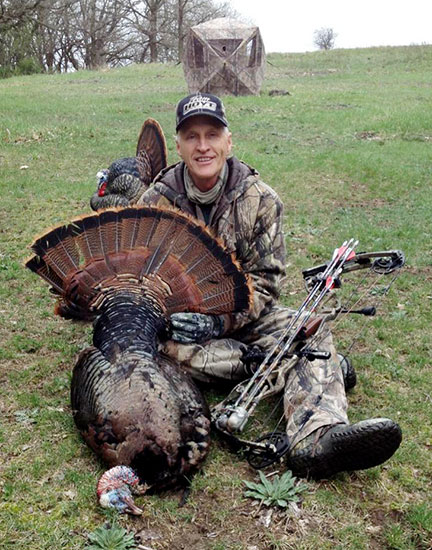 As the winter of 2014/15 finally came to an end it was time to think about warmer weather and turkey season. The hunt preparations, which are part of the fun, included getting the decoys and blind ready, practicing up with the calls and of course some much needed target practice. A quick visit to the IA DNR website and my archery turkey tags arrived in no time.
After scouting the turkey woods I would be hunting, I chose a fairly narrow ridge / saddle to place my pop-up blind a week prior to opening day. I hoped the smallish opening in the woods would provide a large enough shooting lane while not forcing the birds to come into a large opening. The pop up blind doesn't seem to alert the turkey as it may deer but I was hoping to be as ready as possible for opening day.
Opening day finally arrived. I wasn't able to hunt in the morning but decided to give the afternoon a try. I arrived at my hunt location at approx. 4 pm. I set up a strutting Jake and breeder hen decoy and slipped into the blind. I had not hunted much in the afternoon and was concerned about my chances for calling turkey activity.
At about 5:45pm the first distant gobbles were heard. I responded with some yelps from a diaphragm call. What sounded like two turkeys, responded with more gobbles but not after I had completely finished my yelps. The gobbles were getting closer as I kept yelping in response. Finally the birds appeared at the edge of the opening at 28yds. My heart rate now elevated, I was sure they would end up at the decoys for a shot opportunity. Instead, for the next 20 minutes, the two Tom's slowly circled the blind, gobbling regularly, but never coming in for a shot opportunity. About an hour later, another group of Tom's responded to my calls, but again came in for a look, but not close enough for a shot. The encounters were very exciting but also very frustrating. I wondered what was I doing wrong? When I asked a more experienced turkey hunter, he explained that the strutting decoy may be intimidating to other Tom's (especially Jake's) during the early part of the season.
The next few hunts were similar to the first, turkeys gobbling, but not coming in to the hen decoys. When the season had been open for almost a week, I decided to put the strutting decoy back in the mix on the next hunt.
My next opportunity to hunt was in the morning. As I walked to the blind in the pre-dawn darkness, the turkeys, still on the roast, were gobbling all around me. When I arrived at the blind I quietly set up two hen decoys and a strutting Jake decoy.
When it got light enough to call, I began softly yelping. The responses were sporadic and I feared the Tom's I had heard earlier may already have a hen in mind for the first fly down encounter of the morning. It got really quiet for about 45 minutes. Finally my yelps were followed by a gobble to my right. The turkey was some 125 yards away and showing interest. A couple of more yelps, followed by gobbles that were closer than before, was encouraging. My next few soft yelps were followed by silence. I wondered if he had given up, like so many before? Then I caught movement to my right some 40 yards away. A lone long beard, in full strut, came out of the timber and worked my way. I readied my bow as he walked past a small tree branch I had placed on the ground at 30 yards for a distance reference. Still in full strut, he continued his almost robotic march, turning back and forth as he came ever closer. His bright red neck and white capped head gave him a very striking appearance!
When he got in- between the decoys, (at 15 yards) I slowly drew my bow, picked a spot and released the arrow. The seemingly instant impact of the arrow sent the bird into a spinning, flapping, rolling mode that lasted for only several seconds. He had never regained his feet and lay only a few yards from where he had been hit, my kind of tracking job.
Admiring the beautiful turkey in the early morning sunshine was a great ending to a very exciting hunt.