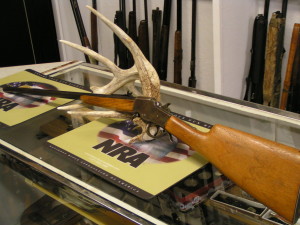 By: John Hackett
The Hopkins & Allen Manufacturing Company of Norwich CT was founded in 1866.  The name was changed to Hopkins & Allen Arms Company in 1896.  The company was taken over by Marlin-Rockwell Corp. in 1914.  Hopkins & Allen was known mainly for their revolvers, but the firm did start manufacturing single shot rifles about 1888.  The first of these were of a rolling block style.  Later production saw true falling block actions used.  The company also produced a number of both single shot and side-by-side shotguns.
This month's old gun is one of the latter production Hopkins & Allen falling block rifles.  It is 39" overall, with 24" barrels and is chambered for .32 rim fire.  Hopkins & Allen company records are a bit "sketchy" at best.  There doesn't seem to be any real records as to serial number years of use, and furthermore there also doesn't seem to be any clear records as to what years particular models were made.  The barrel address on this particular rifle is "The Hopkins & Allen Arms Co. Norwich Conn USA", so that would let us know it was made sometime between 1896 and 1914.
This rifle is in very good condition for being over 100 years old.  It has most of its original finish, locks up tight, but does have some pitting in the bore.  This is fairly common for guns of this age that used black powder cartridges.  These rifles usually sell for around $300 in this condition.  Generally one can get a bit more if it is chambered in .22 LR, as people still like to use these old guns as "shooters".