By Steve Weisman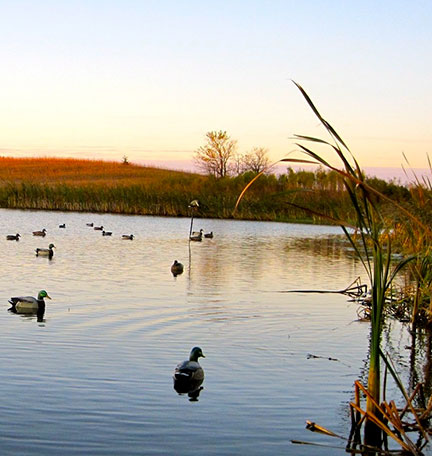 Since 1979, Iowa duck hunters have had the opportunity to hunt an early five-day duck season. The one stipulation was that these five days were then subtracted from the number of days allowed during the regular duck hunting season and the regular season could not open before October 10. There was a period of time from 1988-1993 that the five-day season was suspended because of severe drought conditions and exceptionally low teal populations.
DNR data shows that this five-day season has been highly popular with Iowa's duck hunters. However, the U. S. Fish and Wildlife Service is now allowing Iowa the opportunity to participate in a Special 16-day September Teal Season that will run from September 6-21. Hunters need to become accustomed to several rules different from the 5-day season.
About the season
No longer will Iowa hunters be able to take other types of ducks during this special season. Only TEAL can be bagged! That means that hunters need to identify ducks much better than normal. No mistakes! To help hunters better identify their ducks, the shooting hours will be from sunrise to sunset. As we all know, that half hour before sunrise is a great shooting opportunity during the regular season, but it's extremely difficult to identify types of ducks.
The daily bag limit will be six teal in any combination. The three species of teal include blue winged teal, American Green winged teal and the cinnamon teal.
Obviously, hunters will to have their hunting license, habitat and migratory game bird fee and federal duck stamp – everything in order, as always.
The intent                                                                                                                            
The goal of this new teal season is to offer Iowa hunters the opportunity to harvest what the U. S. Fish and Wildlife Service considers an underutilized species: blue winged teal. During the previous 5-day special season, northwest Iowa hunters often missed out on most of the teal hunting. When morning lows dip into even the mid to upper 30s, teal will take flight and head south. I can remember many years that there were lots of teal around through early to mid-September and then-bang-a cold front pushed through and the teal headed south!
So, by having the 16-day season begin on September 6, hunters will get the chance to get in on several of these early migrations. Unlike the former 5-day special season, these 16 days will not come out of the total days allowed for the regular duck season. This will definitely make the late-season duck hunters happy.
The hunt
One possibility of this early season is the opportunity to hunt both teal and mourning doves. Teal and doves often frequent the same shallow water/mud flat areas, so chances are you will get a shot at both. That will definitely be a fun mixed bag. As acrobatic as teal and doves are, I am sure that lots of holes will be shot in the air! That's what will make this season so interesting. If you have ever had a flock of 50 teal dive bomb through your decoy spread and be gone before you can get nothing more than a "passing Hail Mary shot" off, then you know what I mean. Plus, they will come screaming in from the back, or the side, or the corner or right from the front. Each flock will most likely do something just a little bit different.
Scouting will be important for this early teal season. Most of the migrating blue-winged teal relate to shallow water, mud flats and smaller wetlands, especially those with heavy vegetation. They love the seeds and gorge on them to prepare for their next push south. As for equipment, it will be relatively simple with only a few decoys needed. Most hunters will likely use some of their mallard decoys. Best bet is to go with mostly hen decoys, because the blue-winged teal drakes will not be in full plumage yet. Of course, some hunters will use teal decoys to make the spread as realistic as possible.
Since the best action will be on those shallow water areas, hunters will not be hitting the larger marshes, small lakes and rivers, so that will help them avoid other ducks: wood ducks, mallards, gadwall and shovelers.
My thoughts
The old adage, "It's hard to teach an old dog new tricks" kind of fits for me. Since 1979, I've grown so accustomed to the five-day special season and the opportunity to harvest a mixed bag. Not just teal, but some wood ducks, local mallards, etc. Plus, some of the best, and I mean best, hunting comes that first ½ hour before sunrise.
I know we won't be shooting at these other species of ducks, but all of the shooting going on will most likely move them on down the road!
I like the idea of getting a crack at the migrating teal, and I'm sure after a few years of this, I will get used to it. But, it's sure going to be tough not to squeeze the trigger when a mallard hovers right over the decoys.
Ok, Ok…I'll quit my whining. Now it's time to make my top 10 list of most likely teal spots! The heavy rains of late June and early July might just give us more water options for this early season. That is if we don't go totally dry as we have the past two years.