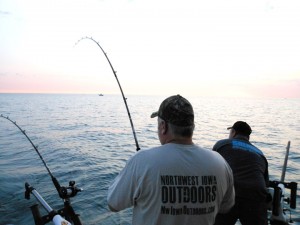 By John Hackett:
A contingency of the Northwest Iowa Outdoors Pro Staff consisting of the "Hackett Clan", Drew, Nathan, Chuck, Heath and John, boarded Jaws II this past June for some salmon fishing on Lake Michigan.  Jaws II sails out of the Port of Kewaunee, Wisconsin with Captain Steve Braunsdorf at the helm.
Having no experience with either salmon fishing, or chartered trips, I didn't really know what to expect.  I have gotten skunked on similar trips before.  You know, the kinds of trips where you have no real ideal what the heck you are doing.  The info on the Jaws II web site states that they have all the gear you need, all you need to bring is your body.  This info was correct.  None of us had anything remotely suitable to catch what Capt. Steve had in store for us!
We met Capt, Steve at the dock at 4:00 AM for our first of three trips out onto the lake.  My first glance at the heavy rods needed to catch Lake Michigan salmon and I thought, "Boy, I don't have anything near that heavy-duty!"  "Good thing I left my bluegill rods behind."  All of the rods were tipped with large spoons and jigs that were almost the size of the fish I generally catch.
Within a half hour we had our first salmon, a 15 pounder landed by Drew, in the boat.  We all thought the same thing "O.K., this is going to be awesome!"  "Limits by noon!"  But then the reality of fishing set in.  Two more hours went by without  a single strike.
Close to the end of the second hour of our "rot-fest" I commented to Capt. Steve, "I suppose it's times like this that you're glad you offer fishing instead of catching."  "It must be somewhat awkward knowing that your livelihood depends on a stupid fish trying to eat a metal spoon being drug behind this boat"  Capt. Steve was unaffected by my comments.  He simply stated, "Oh, we'll find the fish.  And when we do they will bite!"  This is the kind of confidence one looks for in a guide when you just drove 500 miles to catch a fish!  We did both agree that salmon were just like any other fish, once you did find them it was very difficult to "make" them bite.
This is when Capt. Steve's 27 years of experience paid off.  He knew exactly what water he needed to find the fish, and what presentation he needed to make them bite.  Once Capt. Steve found the water temperature the fish preferred, and settled in on the proper lure speed we put another 11 nice fish in the boat by noon.
We had the same success later that afternoon and evening.  And again the third time we went out the next evening.  In total we were able to put 40 nice sized salmon and rainbow trout onto the deck of Jaws II.  Most of them weighing in at about 15 to 20 pounds.
There is no doubt in any of the Pro Staffers minds that our Lake Michigan salmon trip was made so successful only because of the knowledge and determination of Capt. Steve.  That same weekend most of the other charter boats coming in to the Port of Kewaunee had a fraction of the fish we were able to land.  Two other groups staying at the same motel as we were went out privately managed to only catch a handful of fish combined over the entire weekend.  Jaws II is the "real deal" when it comes to Lake Michigan salmon fishing!
For more information about Jaws II Lake Michigan charters log onto their web site at http://www.jaws2charters.com/