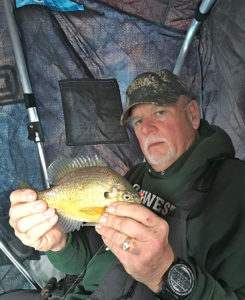 By Steve Weisman
I don't know about you, but each time I head out fishing, it's a learning experience. Sometimes, things go so well and the fish bite so consistently that I think I know what I am doing. At other times, everything that can go wrong does, and I wonder what is going on. Yet, these ups and downs are what keep me coming back for more!
Recently, friend of mine, Tim Milner and I went bluegill fishing on West Okoboji. Tim and I taught together for nearly 25 years in Estherville, and since his retirement, many of you have probably seen him working behind the counter at Fisherman's Factory Outlet. Anyway, Tim had not been out yet this winter, so he was really looking forward to the trip.
I felt pretty comfortable about where to fish, since my son and I had been out several times and had had pretty good success. However, the first two times Tim and I went, we were awful, one time keeping four fish and a second time only one fish. It's not that the fish weren't there. Our flashers marked fish off and on each time. It was really frustrating when they would appear on the flasher, sometimes moving up and down with the bait and often just hovering right there before disappearing. Bottom line: the bluegills flat out whipped us.
A few days later my son and I went back out and kept 12 nice gills all over eight inches and two nice perch. We also caught another 20-25 bluegills that were 6-7½ inchers. Plus, a friend of mine asked me where to go, so I gave him 4-5 different spots on West Okoboji. He picked one and later that day texted me a picture of his limit of bluegills. So, my confidence was somewhat restored, and I was ready to take Tim out for a third time this past Saturday morning before the big storm rolled in. We did do better and caught 20 or so, but only seven cleared that eight inch mark. So, it still wasn't what we really wanted. It was a unamimous vote when decided that we were our own worst jinxes!
Part of the issue is the fact that everything has been done with electronics. I am so used to sight fishing and being able to literally see the bottom just like a huge TV monitor. When I can sight fish, I can see how the fish respond and can adjust to their actions. I can see if my lure is maybe twisting or even going around in circles. It's all there. However, when I must rely on the flasher, it's about relying on my memory and what the flasher is showing. Oh well, that is what keeps me coming back for more!
Be careful: use common sense
Even though the recent cold weather really made ice, we need to remember that not all ice is created equal. Plus, ice is always moving, contracting and expanding. Seams and heaves will appear where there were none before. I was on the north end of West Okoboji on one of those recent warm days and the ice shifted and a crack came through from a long way away. I could actually feel the ice shake and the water was bouncing in the holes as the ice moved. I know that the ice has heaved up along Crandall's Beach and Marble Beach on Big Spirit. I have often thought as I sit on the ice, what a scramble it would be if the access I entered the lake suddenly was impassible. Where would I go to get off?
You might have heard or seen the photos of the four-wheeler that went through the ice under the bridge by the trestle between East and West Okoboji. Thankfully, no lives were lost. Bridges mean current and shaky ice conditions. Be careful of those areas!
Deep water bite
You have probably seen the four-wheelers and even vehicles out in the 50-60 foot water on West Okoboji or perhaps even been out there yourself.  The perch bite has been relatively good out there. A reminder: keep the fish you catch out of these depths. For the most part, they will perish.
The perch bite on Big Spirit has been pretty difficult. Lots of 5-7 inchers with very few good-sized perch. Every once in a while, but not very often. This will be a great year class in a year or so, but I wonder where those 10+ inchers have gone that we caught this past summer and fall?
Trash on the ice
Take care of the trash! With lots of people on the ice now, make sure we pick up our trash before we leave the lake. My neighbor was out fishing last week and as he picked up his stuff to leave, he noticed a pile of trash left on the ice about 30 yards away. He went over and found several empty Gatorade containers that he picked up. If we would all do that, our lakes would be much cleaner and lake homeowners would be much more positive about ice fishermen!
Finally, lots of people have been fishing walleyes with some pretty good success. A reminder that the walleye season on Big Spirit, East Okoboji and West Okoboji will run through February 14 and then close until May 5.