By Steve Weisman
I am sure that Iowa's pheasant hunters have Saturday, October 28 circled on their calendars. After all, it's the opener of the 2017 pheasant season! So, what to expect? It's really hard to put that question into a definite answer.
First off, the August roadside count shows a definite downturn both statewide and here in northwest Iowa from 2016. Statewide the pheasant numbers based on the 30-mile routs across Iowa show a 30 percent decline from 21.4 birds from last year to 14.9 in 2017.  In northwest Iowa, the numbers are not quite as dramatic, but surveys show the numbers are down 23 percent from 34.2 birds a year ago to 26.3 this year.
However, that's not all of the story. According to Todd Bogenschutz, upland wildlife biologist for the Iowa DNR. Since that data was released, there are reports from the field and by landowners that they are seeing more birds than the counts showed. Bogenschultz believes it might have to do with the lack of dew during the August survey time frame. Maybe, maybe not. We really won't know until we hit the fields at the end of October. This same scenario did happen a few years ago, when the numbers were down according to the counts. Yet hunters were pleasantly surprised to find more birds in the field than they had expected.
So, this might be the case this year. However, I won't put any stock into this, though, until I see it. The good news, however, is that northwest Iowa counts still show this part of the state with the best pheasant numbers, although the central part of the state is within 2 birds per 30-mile route at 24 birds.
Of course, all of these numbers are relative based on upland habitat. If there is a combination of good prairie grasslands, water and cattails and food plots or adjacent harvested fields, there will be good numbers. There always are. There really is no magic in that. Find the habitat; find the birds.
I do see some bad news for the opener, and that is the amount of unharvested crops that will probably still be in the field. Harvest has pretty much been at a standstill for the past two weeks with the heavy rains that the area has seen. Tough to even get into the fields, let alone for the corn and beans to dry down enough to harvest. So, my thought is there will be lots of cornfield refuges during the first week or so. That will protect the bird for the first part of the season and make more for late season hunting. However, it becomes a game of Russian roulette: the later the season the more chance of snowfall and tough walking conditions-especially for an old codger like me!
Upland habitat trends in Iowa
Iowa has experienced quite a change in habitat conditions over the past 25 years or so. According to the U.S. Department of Agriculture, between 1990 and 2016, Iowa lost nearly 3,000 square miles of small grains, hay land and land enrolled in the Conservation Reserve Program (CRP) – all potential pheasant habitat. "That's equivalent to a strip of habitat 10 miles wide stretching from Omaha to Davenport. With the loss of small grains and hay lands to corn and soybean production, CRP is critical for Iowa pheasants," said Bogenschutz.
Congress is scheduled to begin discussion on the 2018 Farm Bill this fall. With the low corn prices, there is a push among farm landowners to expand the amount of acres that can be enrolled into CRP.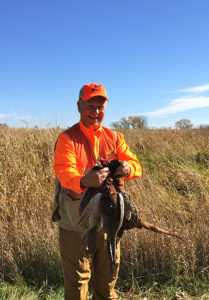 A positive note on the habitat is the amount of continuous CRP that is being enrolled. These are smaller parcels of land that provide good upland habitat, but not to the extent of the general CRP program of which so many acres have been tilled up over the years.
To give you an idea of what more quality upland habitat can do for our pheasant population, all you have to do is go back to the years of 1996-2009.
During that time here in northwest Iowa, pheasant number ran anywhere from 54.7 birds per 30-mile route to a high of 81.2 birds per rout in 2003. The only years where the numbers were below 40 birds per route came in 2001 with 22.4 birds and in 2005 with 35.5 birds. Those two glitches had to do with that year's weather conditions.
The bottom really dropped out from 2011 through 2013 with 11.1, 16.3 and 14.3 birds respectively.
Well, that's what we know at this point. We'll know more once we take to the field.