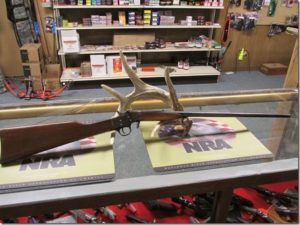 by John Hackett
The Meriden Fire Arms Co., & also known as Meriden Firearms Co., operated in Meriden CT from 1905 until 1918.  The company was formed when Sears, Roebuck & Co. of Chicago IL purchased Andrew Fyrberg & Sons of Worchester MA; and moved the equipment to Meriden.
At the time Sears was selling a great number of firearms through their mail order catalog.  It is reported that the major manufacturers fell out of favor with Sears because of their "low-ball" pricing of their guns, so they stopped selling to them.  Sears' response was to simply buy a gun factory and start manufacturing firearms themselves for sale.
Sears used Meriden Fire Arms Co. to produce cheaply made, inexpensive guns.  Most of their production was revolvers and shotguns, and most of these guns were "brand name" items simply marked New England, Ranger, Secret Service Spl., etc.  The guns had no mention as to the company that actually made them.
Meriden did produce some very good quality side-by-side shotguns however.  Both the A.J. Aubrey line and the shotguns actually stamped "Meriden Firearms Co." were of good quality.  These shotguns have quite a bit of collectors' interest today.
Meriden also made one model of single shot rifle, the Model 6.  This is small tipping-block style single shot rifle.  The frame is a mere 7/8" wide, and the overall length of the rifle is only 36".  It has a 22" barrel and is chambered for use with .22 short or .22 long.  Many companies made small .22 rifles during this time period.  Most of them were intended to be used by kids, and have hence become collectively known as "boy's rifles".
The Meriden Model 6 is very similar to the Stevens rifles that were vastly popular at the time.  The actions on the two company's guns seem virtually the same, but the quality of steel used in the Meriden seems inferior to the Stevens though.
There is not near as much collector interest in the Meriden rifles as there is in their shotguns.  Also it is very hard to find one of these rifles in excellent condition, as they were meant for kids to use.  It seems kids in the early 1900's were as hard on stuff as they are today.  The rifles were used, and used hard!
This month's featured gun is actually in pretty good condition.  It doesn't have much of the original finish left, but the lockup is tight, and after a new firing pin was made the little gun shoots fine.  I would value it at about $150 to $200.  The value would be a bit higher if a seller could find a collector of boy's rifles who needs this particular piece for his collection.