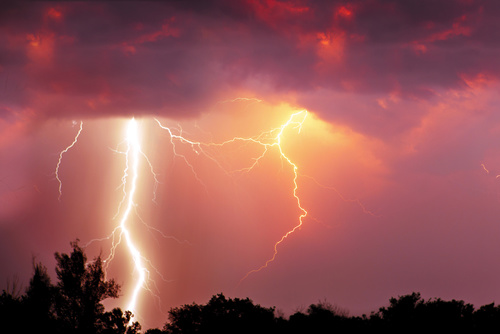 By Steve Weisman
In mid-May, a friend helped me get my pontoon on the hoist and my hoist cover secured. We knew there was the possibility of a thunderstorm popping up, but we checked the radar and a tiny cell was located near Lake Park. However, it appeared to be pretty much nothing and appeared to be sliding southeast. We were pretty confident that it would slide southeast of Arthur Heights.
By the time we had taken the tarp off the pontoon, put the hoist cover in the pontoon and driven to Upper Gar boat ramp, we had used up about 30 minutes of time. The clouds were becoming a little more ominous, but they had not formed into anything serious, but I did grab a coat for my 7 minute pontoon ride to the hoist. It rained a little on me the first mile, but then I outran it by the time I made it to the hoist.
It took about 20 minutes to get the hoist cover on and secured down, and in that time, the sky to the west turned into dark clouds, and as we left the dock for the truck, the lightning arrived and the thunder began to roll. Everything was ok, but it was a great reminder of how quickly a thunderstorm can roll in from seemingly harmless scattered clouds!
The dangers
Thunderstorms are dangerous, but it's tough to get anglers off the water when the fish are biting. We always seem to hang on the spot until the last possible second. Here is an example of a situation that could turn into disaster.  I was fishing a late May NAWA team tournament on West Okoboji in 1999. My partner and I were in first place after Day 1, and the weather was perfect. However, Day 2 dawned with heavy overcast and the rumble of thunder in the background. Even so, the directors sent us out, so we headed for our spot. We didn't have the luxury of having the smart phones and weather radar and updates like we do today, or I am sure they would have never sent us out.
We were using slip bobbers and leeches, and right away we were on fish. The weather seemed to stay the same for nearly two hours with that same heavy overcast and that same distant rumbling.  Then I made a cast with my slip bobber rig, but when the bobber hit the water, the line kept unwinding off the spool on its own, arcing a couple of feet above my head. Now that's some serious electricity. It was way, way past time to get off the water! We told a competing team what had happened and asked if they would honor our spot if we put out a marker buoy. They agreed and headed with us to the weigh-in point. Soon all of the teams were huddling with us under the shelter on shore as the rain came down with lightning and thunder all around. Luckily, we could talk about it, and nobody become a statistic! After about an hour, the storm fell apart, and we were able to go back out. It became a pretty good weekend, because we did win the tournament!
Anglers will always push the envelope; it seems to be engrained in us. However, we still need to be prudent and make wise decisions. No fish is worth getting struck by lighting.
With today's radar advancements, we have weather updates right on our phones. The problem is storms can take forever to form or can appear seemingly out of nowhere. If I would have been on the north end of West Okoboji last week when that thunderstorm formed, I would not have been able to make it to the hoist before the storm hit. When that happens, that becomes kind of like play Russian roulette. We are playing a game of chance with lightning!
How close is it?
Here is a rule of thumb to follow. See a flash of lightning; count the number of seconds until you hear the thunder. So, let's say you see a flash of lightning and count 10 seconds until you hear the thunder. Divide that by five and the storm is roughly about two miles away. How many times have you seen lightning and only counted to two? Now that's scary!
I could go on and on about the seriousness of thunderstorms and water. I can only encourage all of us to be cautious and safe. The last thing we want do is follow a quote that my father-in-law used to say, "Too late smart!" Instead, we want to be proactive and make sure we control the situation, not Mother Nature!