By Clark Schmitz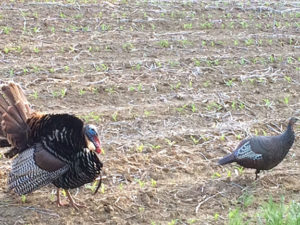 Whether you hunt with a shotgun or bow, the spring turkey season gives hunters a chance to get back in the timber in pursuit of the wild turkey. Calling any game animal is exciting, but when that big tom responds with a thunderous gobble it is truly magic.
The "Eastern" turkey that we hunt in this area is not the most difficult to call (as many feel the "Osceola" tops the list) but is very challenging to say the least! Getting a gobbler to respond is fairly easy, but getting him to commit to the decoys is truly another story. The old adage "a single gobble at 10 o'clock is worth a hundred gobbles at dawn" is so true!
I have recently (the last few years) gotten serious about spring turkey hunting and the learning curve has been steep! I prefer to hunt with a bow which makes the use of a blind a huge benefit. I have been lucky enough to have a few veteran turkey hunters' help with questions I've had along the way.
I recently had the pleasure of getting to know Jimbo Lindsey with Woodhaven Custom Calls in Heflin, Alabama. Jimbo doesn't just make turkey calls, he lives to call turkeys. He has successfully hunted turkeys in several states and has had success in turkey calling competitions. Jimbo has won the Alabama State Championship 3 times and finished runner up in the 2016 National Wild Turkey Federation (NWTF) Grand Nationals in Nashville, TN.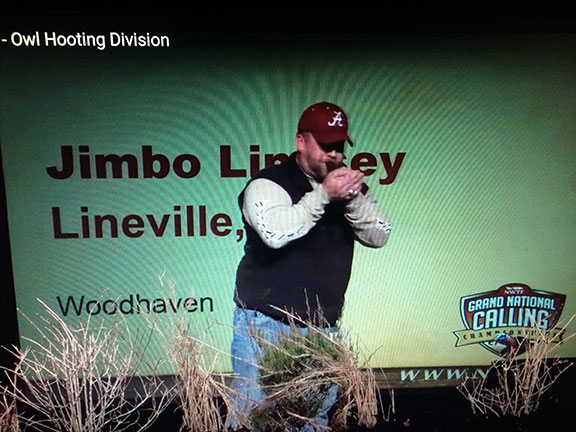 Jimbo was nice enough to discuss turkey hunting tips and tactics with me. We discussed various call types, decoys, hunting sets and calls he likes to use during various times during the season.
When asked about calls, Jimbo explained that Woodhaven Custom Calls makes box, friction and mouth turkey calls in addition to deer calls. He feels the box call is a good choice for beginners and experts alike. It's easy to use, has good volume and can make a variety of sounds. He feels the box call works especially well west of the Mississippi river.
The friction calls (which include slate, glass, and crystal material) are a little more difficult to learn to use but offer the advantage of great sounding purrs, clucks and yelps, in addition to a variety of other turkey sounds. The slate surface call is the most forgiving, followed by the glass surface. The crystal surface friction call seems to be popular with the more advanced caller. The striker must be matched to the call and have no flaws in the tip to ensure a consistent tone. Different style strikers can be used to create customized tones.
Jimbo feels the mouth call is very versatile and can make a variety of sounds while keeping your hands free. The mouth call is a little more difficult to learn to use. The V-cut mouth calls are easier to use and are a good choice for beginners. The mouth calls are very popular with beginners and veteran callers alike.
As our discussion switched to hunting, Jimbo shared some Early, Mid and Late season tactics. Jimbo felt that early in the season, (when the turkeys are still flocked up) calling should be done by "easing into vocalizations". Start with soft calling using purrs, clucks, cutting and some challenge gobbles. Try imitating turkeys coming off the roost with a turkey wing. If decoys are used, be careful that the spread looks proper for this early phase.
Midseason shifts into focusing where the turkeys are moving on a regular basis. Strutting zones are now being established. Calling should still be soft. "Plain" yelps with few reps can really work at this time. If you are working a hen with a tom and she quits responding, there's a good chance she's moving away and taking her boyfriend with her. Listen for birds in the trees as a Blue Jay's call may indicate a turkey nearby as they sometimes follow turkeys.
Later in the season Jimbo will use decoys more, he likes a Jake, breeding hen and a standing hen. Calling may shift to more gobbles and box calls with Jake yelps. He suggests trying new call sounds to stir interest in turkeys that have been called to all season. As the leaves are now blocking the turkey's vision, try to get closer to the turkey before you begin to call.
When I asked Jimbo what his many years of experience had taught him the most about hunting turkeys, he responded "patience". When you persuade a turkey to get interested in your calling do it carefully. A turkey's mind is one big question mark, so he needs to be totally convinced you're the real deal before he interacts with your calling or decoys. Stay calm, don't over call (if he's coming, stop calling) and stay put until you're 100% sure the turkey has given up. It may take a long time for him to get to you. "Patience can kill more turkeys than the call".
I really enjoyed getting to know Jimbo and thank him for sharing some of his turkey hunting knowledge with us. If you are interested in more turkey hunting information, calling tips, or want to check out some truly great sounding calls go to www.woodhavencustomcalls.com .
Good luck this spring in the turkey woods!