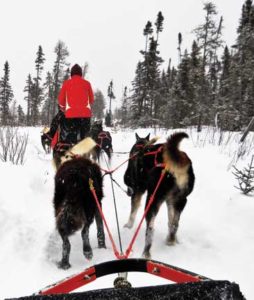 By Michele Devlin and Mark Grey
A "whenever" column about "whatever" in the great outdoors, just off the beaten path…
Perhaps no other outdoor winter sport assaults the senses quite like dogsledding.  The sounds of crazed yelping as a team of huskies is ready to take off; the scent of snow covered pines as you mush along a remote trail; and the feel of your pulse beating rapidly as you put your trust in a lead husky to follow your commands combine to make dogsledding one of the most exciting and unique adventures that you can ever enjoy in the north woods. True, you may smell of dog after a week of winter camping where the sled team carries your gear to a favorite ice fishing spot, but it will be one of the most memorable experiences of your life.
Historians have found evidence in northern Asia and Mongolia almost 30,000 years ago of ancient people using dogs to help them move across the frozen tundra. This practice eventually spread into other northern areas of the world, such as in Finland, Siberia, Greenland, and Canada.  Dogsledding was a common practice among natives in Alaska and Canada for centuries, as the animals were able to pull gear and hunting supplies in remote areas under harsh conditions.  Eventually, different kinds of sled dogs were bred for different purposes, such as malamutes for strength and huskies for speed. Dog teams were used during the Alaskan gold rush in the 1800s; for delivering mail and supplies to remote villages that could not be reached easily through other means; and for exploring the Arctic and Antarctic during historic polar expeditions.  Of course, dogsledding is probably best known when it was used in 1925 for transporting much needed medicine against a diphtheria outbreak in remote Alaska, which is remembered today through the annual Iditarod mushing endurance competition of 1,100 miles between Anchorage and Nome.
Today, snowmobiles and other forms of modern transportation have replaced much of the need for dogsledding, but it remains a very enjoyable outdoor winter sport for the entire family. Recreational dogsledding outfitters can be found easily through internet searches in Iowa and surrounding states in the upper Midwest, with a number of outfitters concentrated in Ely, Minnesota, along the Canadian border. First-timers can try out mushing for a half-day with several companies that provide training, guides, sleds, dog teams, and assistance with harnessing.  Others may choose to go on multi-day winter camping and ice fishing trips with these outfitters, with dog teams pulling their equipment in a sled.  Outfitters may charge anywhere between $100 for a short introductory experience, to $700 or more for multi-day expeditions with guides.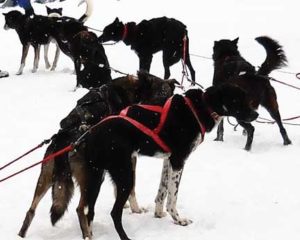 From a family standpoint, many dog sleds allow for two people, with one driving the team and the other person sitting down in a covered sled. This can make dogsledding a fun and affordable sport, even for younger children.  Spectators or young children that do not want to try dog sledding themselves may nonetheless enjoy going to Duluth, Minnesota late January each year to watch the start of the "Beargrease" sled dog marathon, or to Alaska to see the Iditarod race itself.  No matter what kind of mushing experience is chosen, there are few outdoor activities where children excitedly thank their parents for the opportunity to be in freezing weather, as long as they are surrounded by dozens of barking, eager huskies waiting to pull them in a sled.
So this winter when outdoor adventures may seem a long way off, start the New Year right with a unique, historic experience by mushing a dogsled team. The enthusiasm and energy of the huskies is infectious, and their sheer joy of life is addictive.  Like many of us, they are clearly most happy when they are in their element…deep in the woods, one with the wild.