by Clark Schmitz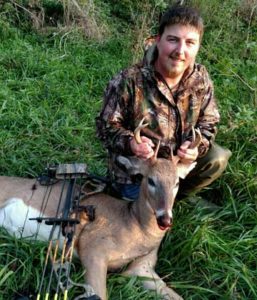 As the 2016 Iowa archery deer season approached Trent Hanner was getting his equipment ready and practicing with his bow. This would be his third archery season to hunt deer and was hopeful this would be the year he would finally get to put his tag on a whitetail deer.
Trent lives in Oyens, Iowa with his wife Virginia and two sons Riley 8, and Raiden 5. He was introduced to archery by his dad, Robin Klemme (from Merrill, IA) who has had a long love affair with archery and bow hunting for many years. In addition to hunting whitetails Robin has traveled extensively to pursue Elk, Moose, Caribou, Black Bear, Javelina and Mule Deer.
Trent first began bow hunting in 2014. After a summer of practicing and fine tuning his compound bow he felt he and his equipment were ready. Trent and Robin did their pre-season scouting and got their tree stands in place well before the season opened.
The first few hunts that first year were exciting for Trent as he was seeing deer from the stand regularly. His first shot opportunity came on a morning hunt. A great buck was spotted coming his way. Tent readied his bow and waited for the deer to get within range. With the deer now within range and standing broadside Trent raised his bow and attempted to draw back. The string wouldn't come back! Trent frantically looked at his bow wondering if there was something was caught in a cam! Trent inspected his bow as the deer walked out of range. The bow was fine and Trent had experienced his first case of buck fever, causing him to temporarily be unable to draw his bow. The rest of the 2014 season Trent had lots of deer action with does close enough for a shot, but no more shot opportunities at a buck.
The 2015 archery deer season saw Trent back in the woods in pursuit of a white tail buck. He was again seeing plenty of deer from the stand and had passed on opportunities at harvesting a doe. On a morning hunt he had spotted a buck in the distance feeding. The buck slowly fed in Trent's direction. The buck's slow progress eventually put him a position for a shot. The buck was at 20 yards as Trent slowly drew his bow and took aim. As Trent released the arrow he accidentally pushed the bow up in an effort to "see the shot" and watched as the arrow flew harmlessly over the deer's back. The 2015 season came to a close with no more shot opportunities.
On the morning of Oct. 15, 2016 Trent headed for his tree stand for his first hunt of the 2016 season. Arriving at his stand sight well before sunrise he nocked an arrow, hung up his bow and settled in for the morning hunt. As daylight broke and time passed Trent felt like the timber seemed really quiet, no squirrels, no birds, no raccoons, nothing! Then as Trent looked to the South (and where only a minute ago there was only native grasses) a buck was standing only 7 yards away. The buck noticed some movement and looked up at Trent trying to determine if there was any cause for concern. Trent froze and watched as the buck soon walked around his stand. As Trent slowly got his bow in position the buck stopped only 8 yards from his stand. Trent very deliberately raised and drew his bow as the buck is very close. Taking careful aim Trent released the arrow. The arrow hit hard and the buck falls to the ground momentarily, gets up and struggles to get away. Trent watched as the buck disappears in tall brush and then heard a "thud" which seems to be only 25 yards away. Then not a sound was heard. Trent wasn't sure if the buck had continued on his escape route out of sight or had gone down. He listened carefully for any indication of movement, nothing! Trent waited for 20 minutes and then slowly got down to investigate. Trent was thrilled to find his buck 25 yards from the stand where he had last heard the deer. His patience and persistence had paid off with a buck coming in close and Trent making a great shot.
Congratulations to Trent on his first archery deer. A hunt bow hunters never forget!
Clark Schmitz
Brunsville, IA