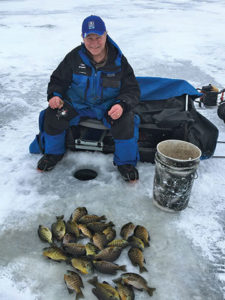 By Steve Weisman
Are you ready for a little ice fishing action? Yes, I know there is still a lot of hunting to be done, but anglers that fished the Iowa Great Lakes this past summer and experienced the outstanding fishing, know that first ice will awesome!
As always, we must be careful on early ice and know what is safe and what isn't. No fish is worth chancing going through! Even when we get into the heart of winter with lots of ice, remember that current, heaves and seams and waterfowl always lead to suspect ice! So, let's look at the Iowa Great Lakes, the ice fishing mecca in Iowa.
Big Spirit
The perch were off and on this year, but from early September on, good numbers of 9-11 inch perch were taken. However, there was a change in location. I would estimate that 80 percent of the perch taken were caught in six feet of water or shallower! They were there, and if you hit the right shallow weed area, it was lights out. The good news is in addition to the larger perch there appears to be another year class coming, this one in 6-8 inch fish! Gotta love that, because perch are a cyclic fish and last about six years or so. So, my guess is the big 10-11 inch ish will be here through the winter and then begin to slowly fade away.
Early on, check out Anglers Bay and areas where late weeds held fish before ice up. After that, target the basin as the perch begin their wandering out deep. Tiny ice jigs tipped with plastic, silver wigglers or wax worms will work well in the shallower water, while smaller Puppet Minnow, Kastmaster and Shuck's Jigger Minnow become go-to lures in the basin. I think Clam's new Rattlin' Blade Spoon could be a hot bait. Last winter I had excellent luck with the Clam Tungsten Dingle Drop Series with red and gold working well on Big Spirit. What I liked about the Dingle Drop was that for its size, because it was tungsten, it got down to the bottom quickly, yet fished light and my Vexilar easily picked it up in deeper water.
One thing about the basin perch on Big Spirit. You have two choices: sit and wait for the school or be mobile and search for them. If they have been biting in an area, you at least have a starting point. I will also use spots I have marked in the fall as locations to begin. Any kind of subtle bottom changes like sand to muck or just off deep rocks are other starting points. As the winter goes, the perch will for sure be out in the muck gorging on bloodworms.
West Okoboji
Mention West Okoboji and immediately anglers get excited for "THE" sight fishing lake. The open water season was awesome for bluegills, perch, crappies and yellow bass…not all at the same time, and best of the best had to be the bluegill. Lots of sizes, so the future looks good.
This lake is known for its bluegills with anglers coming from all across the Midwest to try to sight fish these finicky sight feeders. Yet that is the challenge. There is a true sense of satisfaction, when you get a 9-inch bluegill to commit and take the bait!
Any of the bays (Emerson, Little Emerson, Millers, Little Millers, Smiths, North, Haywards) can be good for panfish. However, each year it is just a little bit different, and one bay becomes hotter than another one does. Key for the bluegills is finding a good weedbed with standing weeds and pathways for the fish to come and go. If there is no snow on the ice, the shallow bite becomes very, very difficult with the bluegills tucking themselves back in the weeds during sunny days. Then it the bite becomes this: before the sun hits the tree line and after the sun hits the tree line. That is why I often hope for a good cloudy day!
Although we are targeting bluegills, at times 10-12 inch crappies and perch will come through. Nothing more exciting than when a 12-inch crappie opens its big mouth and inhales the jig!
For the most part, however, the perch will be caught out deeper on the sand. It might be 16, 20, 25, 30…60 feet of water. Last winter I had a month of good perch fishing in 20-25 feet of water. My best bait was the 1/32-ounce Clam Dingle Drop tipped with silver wigglers. That little ball and chain seemed to really trigger the bite.
Every year there is also a bite out in the 35-60 feet of water. However, unless I plan on keeping everything I catch, I don't fish these depths. The pressure difference is so much different that the perch can't handle it and their swim bladder comes up. They are dead. Last year I witnessed what some anglers had done with the little 5-7 inch perch. They threw them on the ice and covered them up with slush or snow. Definitely no the way to handle the resource! Plus, you never know when a slot walleye might take a bait. Now that is really sad!
East Okoboji
This lake is chuck full of yellow bass and also has a good perch and bluegill population. This past summer yellow bass could be found all over the lake. All it took was watching for a school of fish on the locator, drop the anchor and fish. Bingo: schools of hungry yellow bass. Of course, I marked those special spots where the yellow bass consistently ran from 9-11 inches in length.
For years there has been very little ice fishing done on East Okoboji. Sure, there was a little bit out off of Parks Marina for walleyes, but that was about it. Then came late last two winters. The last month of the season the west half of East Okoboji was dotted with towns of portable shelters. Most of the fish taken were yellow bass, but there were days where lots of perch and crappies were taken. Once again, the same lures and baits can be used for these panfish. I look for this trend to continue.
Minnewashta
Located south of Upper Gar, Minnewashta is known for its panfish: yellow bass, perch, bluegill and crappies. The water is stained, so you have to use a flasher if you want to "watch" what is below the ice! I really think you can go anywhere on the lake and find yellow bass. However, they don't on average run as consistent in size as those on East Okoboji. So, there is more sorting. This past fall was hot for crappies in the 10-12 inch range.
With Minnewashta, you never know what you will catch. Most likely you will end up with all four. Plus, every once in a while, a walleye will be taken. When schools come through, the flasher screen will light up!
Silver Lake
Every once in a while, a satellite lake will take off. That's exactly what happened all summer with jumbo perch mixed in with limits of walleyes on Silver Lake near Lake Park. Yes, that's right. Limits of walleye were caught for weeks and weeks from May through July and then it started up again this fall. Creel surveys show several year classes set to take over when this one is done. I know that anglers already have this lake on their calendar.
Center Lake: renovations continue
Carp control structures, shoreline management on the north side and runoff issues are currently being addressed. This spring and summer saw a lot of crappies and bluegills caught, so I think this winter could be good for both of those species.
It does have an aeration system on the northwest side, so precaution is required around this open water area.
Trumbull Lake
Trumbull Lake is just now recovering from its renovation process, and creel surveys showed perch up to 12 inches with lots in the 8-9 inch range, along with northern pike in 25 inches. Lots of emergent vegetation, so if anglers are thinking about fishing this winter, they should make a trip before ice up just to get a good picture of where all of the weedbeds are located. It should be hot fishing just off the edge of the weeds.
A final thought
Yes, things look promising for this winter on the Iowa Great Lakes and nearby satellite lakes. I can hardly wait! One final thought. Don't forget to take a youngster along. They are our fishing and hunting future!
[wwcAmzAffProducts asin="B014MGR80W,B0051F95PA,B00H6MGI56,B01FT1L2E2,B00INGT9FU,B00R8I6W5O,B00KUM68NQ,B00B7YDJY2,B003RXZGB0,B016QVXTNQ,B00XK5NNN8,B010SDBYVC,B00TX536KO"][/wwcAmzAffProducts]