By Darial Weisman
It's that time of year, when so many of our summer visitors (songbirds) have headed south. However, we are also into the time of year when we anticipate our winter birds being with us. Cardinals, nut hatches, downy woodpeckers, house finches, gold finches, juncos, chickadees and yes, even mourning doves are our winter-feathered friends!
Before the really cold weather sets in, be sure to clean out all of your feeders and get them ready. It is certainly easier to do this when you can still feel your fingers and there isn't a blizzard rolling in. It's also time to check out your watering station.
First off, make sure that it has been cleaned out and that there is good clean water. Make sure the heating element is working. I know it is hard to believe that even with snow on the ground, birds still rely on open water for both drinking and, of course, for a quick bath on a mild winter day. Even during the winter, it is important to keep the water clean.
As for the feeders, keep a close eye on them, not only to make sure there is enough feed, but to also make sure that the feeder isn't clogged with snow or the seed wet and frozen. Keep things clean and fresh.
As for you living in rural areas, don't be surprised if pheasants make their way to your feeders and clean up the seed spilled on the snow! Oh, and yes you might find a deer or two also!
You can also share what you see and what other birding enthusiasts see by being part of birding organizations.
National birding organizations:
If you are interested in going beyond this type of feeding and are interested in becoming part of an organization that focuses on birds, consider the National Audubon Society. It has been in existence for over 100 years and has as its mission to conserve and restore natural ecosystems, focusing on birds, other wildlife, and their habitats for the benefit of humanity and the earth's biological diversity. It is an all-encompassing network designed to help provide expertise through its community-based nature centers and chapters and scientific and education programs.
Each state has local Audubon chapters established that are always looking for new members. Although some are more active than others, these local chapters can provide bird watching outings, advocacy campaigns, nature outings and special education programs.
By going to the National Audubon Society website (www.audubon.org/), you can find several links that will give you all kinds of choices to learn more about birds around the country and what others are finding. It also provides information about a couple of backyard bird counts, where thousands of volunteers across the country and Canada spend time recording birds in their area.
The first is the Christmas Bird Count, which this year will be the 117th year of counting birds across the Americas. It begins in mid-December and runs through January 5. This bird count is a true census, so you have to be part of a group with a compiler for each count. Typically, each field party covers a specific area or route. If you live in a designated Christmas Bird Count circle, you will be allowed to count birds at your feeder. Participants simply have to have make contact with the compiler before the count period so results can be reported on the Count Day.
The second opportunity is the Great Backyard Bird Count. This is organized by the Audubon Society and the Cornell Lab of Ornithology and is scheduled in 2017 for February 17-20. This one is especially nice because anyone can count birds from wherever they are and enter their results online at www.birdcount.org. People of all ages and experience levels are invited to take part wherever they are—at home, in schoolyards, at local parks or wildlife refuges, even counting birds on a balcony. Observers count the highest number of each species they see during at least 15 minutes on one or more of the count days. Then they enter their tallies on the Great Backyard Bird Count web site www.birdcount.org.  In 2016, participants turned in more than 160,000 participants submitted their bird observations online and created the "continent's largest instantaneous snapshot of bird populations ever recorded."
Either way, bird feeding yourself or by going online and seeing what others are doing across the country, this is a great hobby for the winter months.
Editor's Note
We also have a regional chapter, the Loess Hills Audubon Society, which meets the first Thursday at Dorothy Pecaut Nature Center. They sponsor TWO Christmas Bird Counts. They also run the Great Backyard Bird Count. Visit their website for more information lhas.tripod.com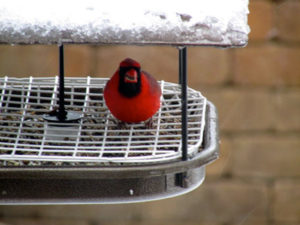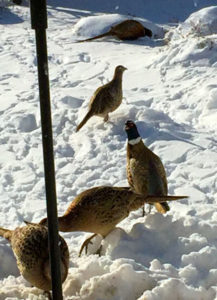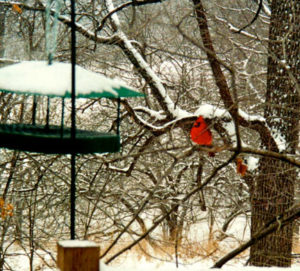 [wwcAmzAffProducts asin="0877455686,1583551468,0395922763,1885061927,1624141188,0375709665″][/wwcAmzAffProducts]