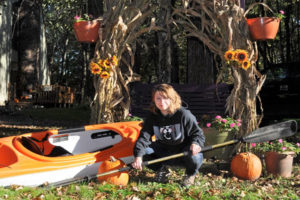 By Michele Devlin and Mark Grey
With the crisp air upon us, the brilliant autumn light shining through quaking river birch leaves, and the faint aroma of wood smoke coming from a distant hunter's cabin, backwoods kayaking can be one of the most enjoyable outdoor adventure sports to experience in Iowa during the fall.  When summer tourists have long gone from the state's great lakes and the children have reluctantly returned to school, nothing is more relaxing and reflective than the smooth glide of a kayak making its way silently through the wetlands, greenbelts, marshes, and lakes of northern Iowa.
Kayaking is one of the least understood outdoor sports.  Many people associate kayaking only with running whitewater rapids in states like Colorado, with its abundance of raging rivers fed by the icy snow melt of tall mountain peaks in the Rockies. However, kayaking is a highly adaptable sport, with different kinds of boats designed for diverse bodies of water.  Contrary to the white water image, kayaking can be a highly meditative experience, especially in a state like Iowa with its slow-moving waters and quiet wetlands. It is in Iowa that the kayaking experience can actually return to its traditional historic native roots as an outdoor mode of remote transportation and exploration.
Kayaks were originally designed 4,000 years ago by Native people of the far north, throughout what today would be Alaska, Canada and Greenland. They stretched seal skins to create  narrow, single hull, flat bottom, small boats that held one or two people and their gear. Kayaks were invaluable modes of transportation for these native hunters to glide silently and easily among ice flows, through thick marshes, along rugged coasts that could not be navigated by canoes, and up through narrow inland waterways where their small size was an advantage.
Today, basic kayaking is one of the most accessible sports for people of all ages and skill levels. Kayaking is easy to learn, arguably even easier than canoeing.  Kayaks are small, easy to maneuver, and agile. They are particularly well suited for exploring the many wetlands, marshes, and lakes in Iowa.  The sport has also become very affordable, with simple basic kayaks often sold now in local in farm stores, discount chain stores, and sports shows for as low as $200, while higher quality advanced sea kayaks designed for rugged open-water travel can be purchased for several thousand dollars from outdoor adventure companies. Personal flotation devices and doubled-bladed kayak paddles are the only other inexpensive pieces of equipment needed to enjoy basic floating. Entire families can join in the experience, as modern basic kayaks are lightweight, often as little as 25 pounds, and can be easily transported and carried by even children and seniors.  Kayaks are stable, and those used for floating small bodies of water in the backwoods have cockpits that you sit in, rather than on top of like sea kayaks, so they are also ideal to make remote hunting and fishing spots easier to reach. Some kayaks are even short enough at 8-10' in length that they can easily fit inside an SUV or in the back of a pickup truck, making transportation almost effortless.
So before the first snowflakes begin to settle in as the year closes, spend some time this fall floating through the many remote bodies of waters in northern Iowa's backwoods on a kayak. Gliding past the thick woods of maple, oak, walnut, and cedar trees in their stunning shades of amber, gold, sage, and coral can make kayakers experience the same quiet sense of adventure that our Inuit and Aleut native neighbors felt in remote wilderness areas of the great north thousands of years ago.
[wwcAmzAffProducts asin="B0186UZADM,B0186V0TUU,B00A7EXF4C,B00177FIJ8,B00177J4JS,B003V57NUQ,B0186UXYO4,B00843UMIU,B003EET2OE,B00EVII3BK,B005S6GY74,B00JM0QD4Q,B0186UY9GQ,B00HLB2TKK,B00GZHT7R4,B004D34EQ6″][/wwcAmzAffProducts]