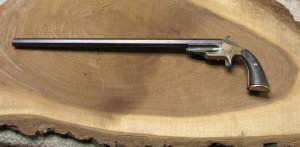 By: John Hackett
The Wesson name is no stranger to historic firearms. Most laymen know of Daniel Wesson of Smith & Wesson fame, but few know of his younger brother Frank Wesson. But most serious collectors of vintage firearms do know of Frank Wesson's guns, and that an early partnership forged by him still exists in today's gun manufacturing landscape.
Frank Wesson established his gun factory in 1854 in Worcester MA. In 1871 Wesson entered into a partnership with his nephew Gilbert Harrington under the name Wesson & Harrington. The partnership dissolved in 1874, and Wesson went back into his individual business until about 1888.
In 1875 Gilbert Harrington formed a new partnership with William A. Richardson under the company name of Harrington & Richardson Co. This is the same basic H&R firm that is still manufacturing firearms in the U.S. today.
Frank Wesson was well known for his quality made and highly accurate single shot rifles and pistols. Most of them were either of a falling block or tip-up design. This month's old gun is one of Wesson's later designs, a swivel breech pistol.   A button under the front of the frame is pressed to allow the barrel to swivel to the right for loading. These were referred to as "pocket rifles" because they were in essence a pistol, but had longer barrels. Wesson made these with 10" to 22" barrels. The gun also came with shoulder stock that could be attached to steady the gun against the shoulder like a rifle. The stock could be removed and the pistol could still be carried in one's pocket.
This particular Wesson 1870 pocket rifle is the earlier production that had a brass frame, later models had iron frames. This pistol is chambered for .32 rim fire, has 15" barrels, and is 18" overall in length. There is no original finish left on the gun, the bore has a lot of pitting, and the barrel has some considerable looseness to it. Even in its poor condition this gun still has quite a bit of collector value to it due to its scarceness. It is believed that only about 5,000 of these pocket rifles were made. Mint guns with the shoulder stock can bring as much as $1,500-$2,000, to the right buyer. Considering the condition, and the lack of the shoulder stock, the value of this particular gun should still be around $500-$900.