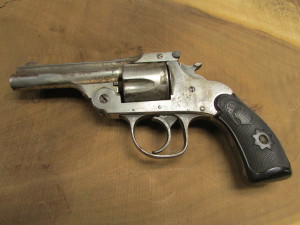 By: John Hackett
This month's old gun is a Forehand Arms Co. 5-shot top break revolver. It has a 3 ¼" barrel and chambered for .38 S&W. At first glance it doesn't look like much, kind of like the 1,000's of other cheap revolvers made around 1900. But it is a little different. Forehand revolvers were a little better quality than a lot of revolvers on the market during the day. And also this company has roots that date back to the early 1800's, and arguably to one of the finest gunmakers that America has ever seen, Ethan Allen.
Ethan Allen Started his gunmaking career in Grafton MA in 1831. Allen was one of the first American producers of commercial handguns with interchangeable parts. In the 1830's Allen's guns were highly prized for their workmanship and rugged construction. Allen's guns are still prized by today's collectors for the same reason.
The company Allen founded went through many name changes over the years; E. Allen – Grafton MA 1831-37; Allen & Thurber – Grafton MA 1837-42, Norwich CT 1842-47, & Worcester MA 1847-54; Allen & Thurber & Co. – Worcester MA 1854-56; Allen & Wheelock – Worcester MA 1856-65; E. Allen & Co. – Worcester MA 1865-71; Forehand & Wadsworth – Worcester MA 1871-90; and finally Forehand Arms Co. – Worcester MA 1890-1902. Forehand Arms Co. was bought out by the Hopkins & Allen Arms Co. of Norwich CT.
By the time this month's old gun was made the quality that made Allen famous was no longer there. But Forehand still made a good gun, just not a superb one. And as such, collector interest just isn't there for this type of piece, and the values reflect it. The value of this particular gun should be about $50 to $200.