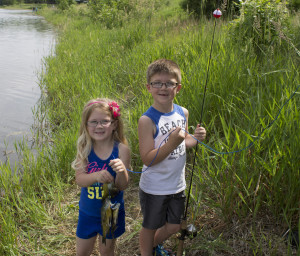 On June 6, 2015 Kingsley Iowa based Northwest Iowa Outdoors held its annual youth fishing derby at Little Sioux Park near Correctionville Iowa.  The event was held even though the weather forecast promised a rainy morning.  The rain held off and allowed to 76 attendees to enjoy a fun filled morning fishing with their friends and families.
The fishing started at 8:00 A.M. and concluded at noon.  Upon registration youth received a free tackle box full of gear, and plenty of bait, compliments of Small Town Sportsman in Kingsley.  First time fishermen were able to gain the help from the experienced anglers from the Northwest Iowa Outdoors Pro Staff that were present.
The week of constantly changing weather patterns leading up to the fishing derby had the fish in an unpredictable feeding pattern.  Undeterred, the young anglers were still able to land over 50 fish on the morning.  Bluegills made up the most common catch, followed by largemouth bass, catfish, and a few green sunfish.
Emerson Deeds took top big fish honors with a 16" catfish.  Finishing in 2nd place was Jaden Clements with a 15″ catfish.  Tying for 3rd, each with a 14″ bass, were Parker Hackett and Marvin Reese.
At noon the anglers enjoyed a lunch of hot dogs, chips and Kool Aid.  The lunch was donated and prepared by the staff of Dirt Road Design of Kingsley.
After lunch a prize drawing for rods, reels and other misc. fishing equipment was held.  Area renowned Muskie fisherman Paul Malm of Malm Fishing Services of Moville served as emcee of the drawing.  There were enough prizes available that each youth in attendance won something.
The prizes were donated by several sponsors; Small Town Sportsman in Kingsley; The Shooting Shop in Anthon IA; Jaws II Sportfishing Charters, Port of Kewaunee WI; 13 Fishing, Tampa FL; Iowa DNR; West Fork Firearms Training, Kingsley; and Dirt Road Design, Kingsley.
Each year Northwest Iowa Outdoors holds this event during the Iowa DNR free fishing days held during the first weekend in June.  Next year's date is tentatively set for June 4, 2016.