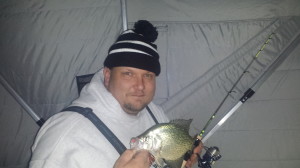 by Shane Christiansen
Thanks to mother nature bringing us an early cold snap to the midwest in November, I was able to take my new 23″ UltraLite Ticklestick, made by 13 Fishing, to a notorious crappie slough in South Dakota for some pleasure testing. The crappie there always seem to bite every day, however their bite ranges from extreme aggressive to neutral to negative, varying from fish to fish. So to ensure limits of 15″ plus size crappie, one has to be ready for the ever changing bite and capitalize on every opportunity.
Using trigger-x mustache worms on a 5mm Fiska tungsten jig and 4lb micro ice line, recreating tail quivers was a dream that paid off in success. Tilting the rod to its side gave a more firm feeling on a heavy jig, while holding it natural made it float a little more. Without having to change rods or lures, I could change up my jigging presentation enough to trigger even the most finicky bite. It's almost like getting 2 different rods for the price of one!
But the real exciting part about 13 Fishing's Ticklestick is the feel of the bite. While most 'tick' feelings of the bite are lost in a spring bobber style setup, the Ticklestick's design allowed me to feel every 'tick' from an aggressive bite to a neutral bite, even to a negative bite. The 'ticks' were so well felt thru the pole that I felt like I was twitching the long pole while walleye fishing. Purely amazing!!
Although some have voiced their concerns over the Ticklestick's small eyelet design freezing up while ice fishing outside of your shack, I haven't noticed any extra freezing when compared to the freeze-ups of my 32″ custom rods with recoil guides. I am sure that if given enough time on the ice with this rod that I could come up with a 'con' when comparing it to a spring bobber or a higher priced custom rod, but with a couple solid weekends of crappie fishing under its belt I have yet to notice anything but the 'pros' of owning a Ticklestick. From a modest price tag of $49.99 to 2 different feeling styles (ie tilting the rod), to the 'tick' feeling of the bite, it has definitely earned a spot in arsenal.
I do want to remind anyone that is considering purchasing this rod that it does require special attention to how you store the rod away. Putting it away with tension on the rod can affect the how the rod reacts over time, so follow their precautionary instructions on proper storing to ensure your rod performs properly every time you need it.