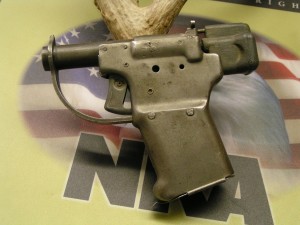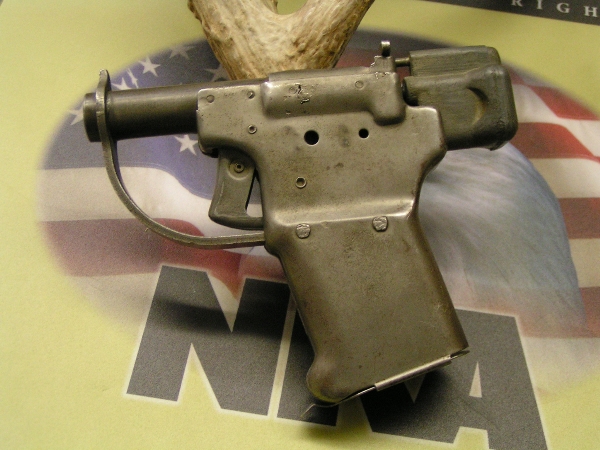 By: John Hackett
I think it would be a safe bet to say that for the most part old military guns don't have much appeal to the average "Joe". Outside of the military collectors most of them don't have much "aesthetic" appeal.  But inside the realm of the military collectors these guns are true works of art, and garner as much interest as do vintage Winchester's with the Winchester collector's crowd.  And as far as that goes, military arms offer collectors the same thrill of discovering the many models and variations produced.  With that being said this month's old gun, in my estimation, is literally the "Holy Grail" of military arms!
The pistol I'm speaking of is what is designated as the FP-45 Liberator. The Liberator was intended as an insurgency weapon to be dropped behind enemy lines for use by resistance fighters in WWII Europe.  The plan was that a resistance fighter would recover the Liberator, sneak up on an Axis occupier, kill or incapacitate him, and retrieve his weapons.
The single shot Liberator was shipped in a cardboard box with 10 rounds of .45 ACP ammunition, a wooden dowel to remove the empty cartridge case, and an instruction sheet. The grip has a hollow cavity to store 5 extra rounds.  The instructions on how to load and fire the pistol were printed in comic strip form to avoid language barriers for the resistance fighters.
The FP-45 (Flare Projector Caliber .45) was mass produced between June and August of 1942 by the General Motors Corporation's Guide Lamp Div. in Dayton Ohio at a cost of $2.10. It is reported that General Motors built 1,000,000 Liberators, but it isn't fully known if this number is correct.  Some claim this was only the number contracted by the government, and actually production was substantially less.  Records of the FP-45 are cloudy at best!
The fact that any Liberators were ever used for their intended purpose is still open for debate also. It is know that the U.S. did ship some overseas.  But records aren't real clear as to how many, or if any at all, were actually dropped behind enemy lines by Allied forces.
There is some indication that fewer than 25,000 of the half million FP-45 pistols shipped to Great Britain for the French resistance were dropped.  Records indicate a few were distributed to Greek resistance forces in 1944. 100,000 FP-45 pistols were reported shipped to China in 1943, but the number actually distributed remains unknown. A few were known to be distributed to Philippine troops under the Commonwealth Army and Constabulary and resistance fighters
After the war many of the FP-45 pistols that were never distributed were destroyed by Allied forces. It isn't known how many Liberators still exist.  Almost every arms expert agrees that they are one of the rarest military arms encountered.  Finding one in its original box is almost impossible.  Today FP-45 Liberators usually sell for around $2,000 to $3,000; add another $600-$800 with the original box; and another $400-$600 for the original instruction sheet.  Due to the scarcity, there have been many fake Liberators produced.  A lot of the boxes and instruction sheet have been reproduced also.  All of this is to take advantage of the high collector values.  So buyer beware!
Vintage Ordnance Company of Elizabethtown Kentucky is making reproduction FP-45 Liberators. Vintage Ordnance makes the fully functioning pistol only for those who want one for historical purposes.  They make no claims as to theirs being original.  As they show on their web site http://vintageordnance.homestead.com/Liberator.html their pistols, boxes & instructions are easily identified to avoid unscrupulous individuals from trying to pass them on as originals.  The Vintage Ordnance pistol sells new for $600.