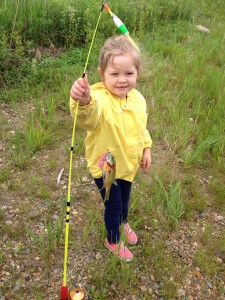 By: John Hackett
Northwest Iowa Outdoors held its annual youth fishing tournament at Little Sioux Park south of Correctionville Iowa June 7th 2014.  Attendance was right at the historical average for the event with 105 youth anglers registered.  Young anglers came from as close as Correctionville to as far away as South Sioux City NE.  In total there were 10 different towns represented at this year's tournament.  With the adults and NWIO Pro Staff there was an estimated 250 people in the park that day!
The day started with registration at 8:00 A.M.  Each registered youth received a tackle box full of gear to keep.  The fishing portion of the event lasted until noon.  At that time everyone in attendance gathered for a snack of hotdogs, chips and lemonade.  A brief awards ceremony for the top anglers was followed by a huge prize drawing.
Taking top honors this year for the biggest fish was Emerson Deeds of Correctionville with the 18 ½" catfish he caught.  Brother Braxton Deeds came in 2nd place with a 15 ½" catfish.  There was a tie for 3rd place between Luke Brockelsby of Sioux City and Jarren Sally of Kingsley.  Both of these young anglers landed 12" long bass.  The most fish caught that morning was 8 by Emerson Deeds.  Each of these top finishers received a rod and reel combo for their efforts.
Every youth registered was then entered into a drawing to give away a literal pick-up load of prizes donated by several corporate and individual sponsors.  Prizes consisted of an additional 35 rods and reels, and tons of other fishing equipment.  Every youth in attendance walked away with something from the drawing!
This year's prizes were donated by several sponsors; The Shooting Shop, Anthon IA; Small Town Sportsman, Kingsley IA; Malm Fishing Services, Moville IA; Dirt Road Design, Kingsley; Jaws II Sportfishing Charters, Port of Kewaunee WI; 13 Fishing, Tampa FL; and the Iowa DNR.