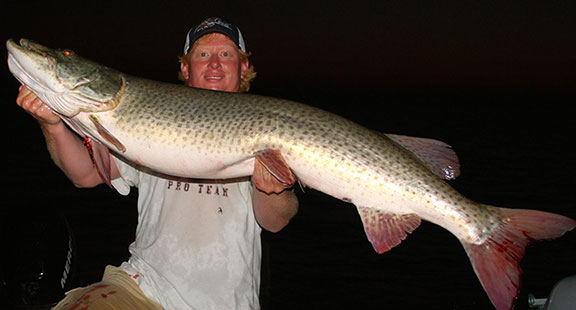 By Steve Weisman
Looking for the chance to learn more about the art of muskie fishing? How about a free seminar put on by one of the most accomplished muskie tournament angler and guide in the Midwest? Oh, and it's free and open to the public!
The annual musky seminar sponsored by the Upper Great Plains Chapter of Muskies, Inc., is set for Friday, April 11 at the Pelican Ridge Club House in Arnolds Park. Doors open at 6:30 p.m. with the program commencing at 7 p.m.
Featured speaker will be noted muskie guide and tournament champion, Spencer Berman. Berman started fishing muskies at an early age and was placing in tournaments by age 16. He continues to fish the Professional Musky Tournament Trail.  In 2013, he won Team of the Year on the Professional Musky Tournament Trail and took second place in the World Championships.
When not fishing tournaments, he operates Spencer's Angling Adventures and guides full time on Lake St. Clair in Michigan, where he focuses on muskies and smallmouth bass. Berman has landed 125 fish over 50 inches in the last two fishing seasons!
According to Art Jones, secretary for the local chapter, "The seminar is focused on sharing his musky fishing knowledge of various techniques, including trolling, casting, jigging, and live bait presentations.  His goal is to enrich his audience's understanding of fish and fishing."
Berman elaborated on what he calls Key Factors to Catching Monster Muskies. "Specifically, I will cover the key that I evaluate every day on the water to determine how I should go about targeting big muskies."
In addition, two raffles will be held with prizes including rods, baits and a free week's stay at Spring Bat Resort on Lake Vermillion.
For more information, check the club website at www.muskieclub.com. "People interested in the Iowa Great Lakes, involving youth in fishing, and muskie fishing can join our club for $35 per year. That includes your membership, a magazine, and entry into our club's annual muskie tournament," says Jones.
About the chapter
Iowa's first muskie club was started in 1968 and was called the Iowa Great Lakes Muskie Club. The club bought and stocked most of the original muskie fingerlings that were stocked in the Iowa Great Lakes for 3-4 years after the club began. In the mid-1970s, the Iowa DNR took over stocking in Iowa lakes. The club was chartered into Muskies Inc as a chapter in 1978.
Since that time, Chapter 29 has been active in the Iowa Great Lakes promoting not only the sport of muskie fishing but also many other conservation programs. Accomplishments include the following:
Helped pay for over-sized weight scale at Spirit Lake Hatchery
Paid for artificial weeds from Berkley & Co. and installed them in East Okoboji
Helped pay for muskie stocking on Iowa/Minnesota boundary lakes
Paid have educational muskie and pike displays put up at Spirit Lake Hatchery
Help with "Kids Fish Day" program at Spirit Lake Hatchery
Paid to instal lights at the East Okoboji boat ramp
Helped increase muskie restriction from 30″ to 36″ in the 1970s and to 40″ in the 1990s
Helped with "Adopt a Fish" program at Spirit Lake Hatchery
Sent a youth to Camp Fish in Walker, MN for a week after winning an essay contest
Paid to have a fish ramp installed at Gar Lock slough
Donated to wild life organizations, including one to save bull rush areas on Big Spirit
Bought aerator for Spirit Lake Hatchery to keep a muskie rearing pond through winter
Helped DNR at Spirit Lake Hatchery with "pit tags" and "freeze dry branding" muskies
Held "Take a Kid Fishing Day" where board members took area camp kids fishing
Donated toward taking veterans fishing on Lake of the Woods
Installed signs with muskie and pike differences at ramps on the Iowa Great Lakes
Send Regional representative to the Muskies Inc International Board Meeting
Installed fishing line collections stations at access points on the Iowa Great Lakes