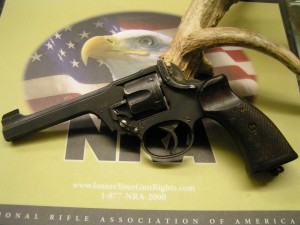 By john Hackett:
This featured revolver isn't particularly rare; you see a few of them from time to time here in the U.S.  It does however have quite a bit of historical significance, especially in Great Britain.
The Webley revolver was designed by the famed British company of Webley & Scott of Birmingham England.  It is also known as the Webley Break-Top Revolver or Webley Self-Extracting Revolver.  The Webley revolver was introduced in 1887 and was made in various marks, or models, until 1963.
During its production this revolver served as the standard issue service pistol for the armed forces of the United Kingdom, the British Empire, and the Commonwealth. These revolvers saw action by the British military in the Boer War, WWI, WWII and the Korean War. British police departments issued Webley's as their standard side arms during this time period also.
In 1887 the British Army was searching for a new revolver to replace the largely unsatisfactory .476 Enfield Mk I & Mk II Revolvers.  The first Webley revolvers made to replace the Enfield were chambered in .455 Webley.  The large caliber revolvers were discontinued in 1947, in lieu of the smaller British .38/200 calibre.  This round is basically the same as the American .38 S&W. 
The manufacture of Enfield revolvers was stopped around 1889, and they were ultimately retired in 1911.  The Webley's official years of service were from 1887 to 1963.  The Webley was ultimately replaced by the Browning Hi-Power pistol as the official British Military side arm.
Our featured gun is a MK IV believed manufactured in 1942.  It is chambered in the standard .38/200.  The #24 marked on the butt may indicate it was used by a police force, but this is claim cannot be documented.  The overall condition of this specimen is good to very good.  Webley revolvers in this condition sell in the U.S. for about $300 to $400.