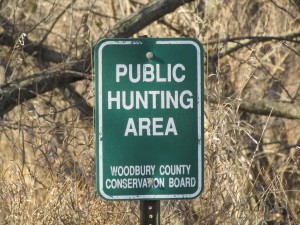 By John Hackett:
Iowa's first shotgun deer season opens this Saturday.  Like many other Iowans I am mostly relegated to hunting public ground.  Many deer hunters scorn the prospect of hunting public areas.  The biggest knock to this is the increased number of hunters in a particular area; as compared to private land.  One thing to keep in mind though is that the deer don't know that they are on public ground.
Like any particular timber, private or public, deer will leave the area as hunting pressure increases, but eventually they will come back.  Sometimes on public ground it will take longer just simply because they will most likely get spooked more often.  But they will return.  Public area deer have the same established escape routes as do their private ground counterparts.  Knowing the area's escape routes is very important.
One of the biggest keys to hunting public ground is to get in early.  A lot of times I will walk in a good hour to a half hour before daylight.  In my experience deer usually won't go far when spooked in the dark.  At least they don't seem to bolt into the next county, to never be seen again.  Find a spot to sit along a major escape route and wait.  Once the other hunters show up, and they will, you can let them do the leg work and push the deer towards you.  If hunting this way, make sure you have plenty of orange on.  Stand up and make sure you are fully visible to other hunters as they approach, and move past your position.  Like all hunting, always be sure of your background before taking a shot also.
Most hunters will give up around mid-morning and return to their trucks for lunch, or get up to move to a different area.  This is where patience can pay off.  While others are making their way back to their trucks it will give you another opportunity to have them push a deer by you.
Remain even more patient into the evening.  A lot of times public deer will have an uncanny knack of just moving around hunters and not really leave the timber.  Just like their private counterparts these deer will leave the timber for evening browsing in the surrounding fields.   Most of the time I will wait until after dark to leave if I haven't killed a deer.  The same concept of spooking deer in the dark applies as much at dusk as it does at dawn.
If I have my choice I prefer hunting private ground, but I have had good success on public ground in the past just by simply being patient.