By Steve Weisman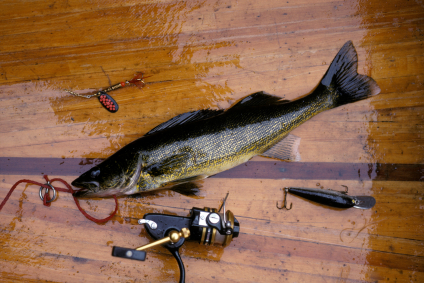 Hit and miss…no not fish, but that's the way it has been trying to avoid the storms that have been moving through for the past couple of weeks. Makes it tough to make a day of fishing, when you have to watch for weather changes.
It's hard to believe that Father's Day is in the books, and at that time the water temperatures on Big Spirit, East and West Okoboji were still below 70 degrees. Walleye fishing on the Iowa Great Lakes has been interesting to say the least.
For the past month, I've been fishing the 17-19 foot depths on Big Spirit with varied degrees of success. It's been a matter of doing a lot of moving until locating a school of active fish. Luckily, once I've done that, I've been able to return to that spot for several days and catch walleyes.
With the use of waypoints and paths from the previous days, being able to pinpoint those "honey holes" has gotten much easier than the days of using the old shoreline waypoints. Remember lining up a tree with a cabin on one side and maybe a water tower on the other side?
The only trouble on Big Spirit has been the number of slot fish caught versus the 14-16 inch plus keepers. Those slots are a lot of fun, but it's also good to catch some fish to eat.
Our best presentation has been using a bottom bouncer with Northland Tackle's holographic Baitfish Spinner Rigs. Depending on the aggressiveness of the fish, I will go from a #3 blade up to a #5 blade. My favorite colors are the yellow perch, sunfish and gold shiner blades.
Be careful not to just let out line and drag the rig around, because you will most likely end up with green slime on the blade and bait.
Some anglers are using shiners, but we have found that either leeches or nightcrawlers both work well. Although I do use crawler harnesses at times, currently I have been just double hooking the nightcrawler in the middle (some call it wacky worm). The walleyes don't seem to snap this off as readily.
I especially like being able to drift at .8-1.2 mph. It seems that the waves cause an ebb and surge that making the spinner blades speed up and slow down.
You may call me crazy, but most of the time, I leave the rods in the rod holders and let the movement of the pontoon do the work. I use 7-foot medium action rods that will show a bite yet give me time to grab the rod out of the rod holder. Aggressive walleyes will hook themselves!
West Okoboji
Last weekend, after hearing word that the walleyes were going on West Okoboji, my son and I took his Skeeter to check it out. Best depths were in that 16-20 range, anywhere there was rocky rubble and a weedline beginning. I really think that right now any of the bays will produce fish. Again, it's a matter of trolling until a strike occurs, marking the spot with a waypoint and then executing the return run. On Saturday, we each caught a limit of 14-16+ inchers. The sunfish and the gold shiner spinners both worked well, but the fish seemed dialed in on the nightcrawlers. We did lose several fish, because they were adept at striking the nightcrawler and popping it off the hook.
The wind was down, so my son used his I-Pilot to troll at 1-1.2 mph. Yes, by mid-morning boat traffic caused the famed Okoboji chop, but I think that chop helped give a subtle change to the blade action. I've also heard that East Okoboji is producing some nice keeper walleyes. We just didn't have the time to get there, too.
On Sunday, we tried walleyes early and kept one 14-inch fish. However, with a lot of weeds from weedbeds floating in the water, it made it tough to troll. So, after an hour we went to one of our favorite docks and caught 9-10 inch bull bluegills. We ended up with 18 in an hour. Tiny jigs tipped with a Belgian worm really worked well.
Reflecting back, we both agreed that it's pretty awesome to have this chain of lakes so close by.
Another poacher caught
Yes! Another poacher brought to justice! Received a DNR press release last week.
A Ham Lake, MN man was recently arrested for illegally taking white tail deer down IN Clarke County down by Osceola. Both Iowa and Minnesota authorities worked together on the case. It resulted in a $780 fine and $18,000 in civil damages. Authorities also confiscated the perpetrator's archery equipment and he faces suspension of his hunting license privileges in Iowa and 38 other states included by the Wildlife Violator Compact.