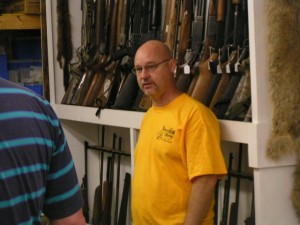 By John Hackett:
Bob Farmer of the Shooting Shop in Kingsley has relocated his gun shop to Anthon Iowa.  Bob opened the Anthon store April 1st.
The Shooting Shop in Kingsley opened in 2010 in a converted garage.  Since then business has slowly grown.  "We actually outgrew that location sometime last year", Bob said.  "We needed something bigger, and Kingsley really didn't have anything available at the time that was economically viable when I needed to make a decision."
Anthon, on the other hand had the old Masonic Lodge that came up for sale.  "The 2,600 square foot building was perfect." Bob said.  "It's big enough for us to house the 20 yard indoor archery range, expand the showroom, and gives a lot more room for the gunsmithing side of the business."
"The indoor archery range in this area is going to be big", Bob said.  The Shooting Shop offers yearly individual passes for $50, or family passes for $100 to the range.  Members are able to shoot anytime during business hours.  League shoots will be held on Tuesday & Thursday nights.  The local Whitetails Unlimited chapter is planning on hosting a number of archery events, including 3-D and youth tournaments.
The Shooting Shop continues to offer the retail sales of firearm, and accessories like slings, scopes, cases, etc.  The Shooting Shop still offers factory ammo sales, reloading equipment and supplies.  The larger building allowed the retail sales to expand into archery & fishing equipment.  Bob is also able to offer custom reloading of ammo to his customers.  The custom reloading includes obsolete cartridges that are no longer offered by manufacturers.
According to Bob, "The gunsmithing side of the business is one area that has really taken off."  "The expanded work area will make us a lot more efficient."  With the addition of a 25 year veteran gunsmith there should be few problems The Shooting Shop can't handle.
The Shooting Shop's new address is 106 N. 3rd Ave., Anthon Iowa.  The phone number for the Shooting Shop will remain the same, 1-712-251-1510.  People can log onto the company's web site at www.theshootingshopllc.com to get the latest info on in-store bargains or upcoming archery tournament details.