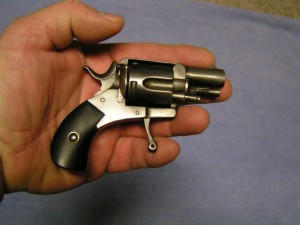 By John Hackett:
It seems regardless of how long one is in the gun business, you will from time to time come across something you have never seen before, or have no idea what it is.  For me this month's This Old Gun was one of those specimens.  It has no manufacturer or caliber marked on it.  Close examination, and a little homework, was needed to determine anything about this little gun.
The only markings on the gun are a Belgium proof mark on the front of the cylinder, and a Belgium inspectors mark on the barrel.  Some research showed that the proof mark present on the cylinder was in use from about 1888 to the 1920's.  This gives us the country of origin and a time period of manufacture.
A chamber cast shows that the revolver is chambered for the European .320 revolver centerfire cartridge.  This round was introduced about 1870, and was in widespread use in Europe during the 1920's.  Due to the .320 revolver chambering this revolver was most likely intended for the European market.  If it was intended for the U.S. market it would most likely have been chambered for the very similar .32 Short Colt round.  The Colt cartridge was vastly more popular in the U.S. during this time period.
Most similar unmarked pocket revolvers that came out of Belgium during this time period, this revolver was made c.1890-1920, don't have much value to them.  What sets this this gun apart is its unusually small size.  This revolver is tiny, to say the least.  It only has a 1 3/8" long barrel and is only 4" long overall!  The .320 revolver chambering makes it a little unique also.  It is very uncommon to find such a small gun that is .32 caliber.  This revolver also has a unique folding trigger and is double action.  The ejecting system is also a bit unusual.  The ejecting rod pulls out of the center of the hollow cylinder pin, pivots to the side, and then pushes the empty cases out one at a time through a loading gate.  On most pocket revolvers of this time period the cylinder pin and cylinder are completely removed from the frame to eject the empties.
The condition of this revolver is very good.  It functions properly and has a little less than normal wear for a gun over 100 years old.  Due more to its uniqueness than condition, I would place a value on this tiny revolver at about &250 to $350.