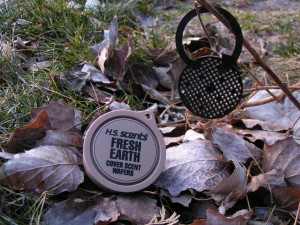 By John Hackett:
Trying to cover human scent is a major problem for the whitetail hunter.  Short of spending hundreds of dollars on expensive scent blocking clothing and special odor blocking sprays, masking human odor is a difficult task.  The folks at Hunter's Specialties of Cedar Rapids Iowa have devised a simple, effective and economical way to mask odor.  For around $20 for a 9-pack of H.S. Scents Fresh Earth Wafers, a hunter can mask his odor for pretty much the entire season.
Unlike other cover scents Fresh Earth Wafers indeed smell just like they are advertised, fresh turned dirt.  As soon as you open the airtight container you get a very pungent blast of dirt smell.  The tiny 1 ¾" diameter wafers pack a powerful stench! 
The wafers are designed to hang from your clothing, or nearby twigs.  Air movement though the wafer carries the earth scent downwind, masking your own human scent.
The wafers do not get rid of your scent, only mask it.  And in my estimation they do a very good job of this.  On several occasions this season I had deer cross downwind, stop cold when they caught my scent, lifted their heads and sniffed the air a bit, then went back about their business without spooking.  On the occasions that I failed to hang out a wafer the deer would spook back to where they came from when they caught my scent.
The wafers will maintain their scent for quite a while, pretty much the entire season.  After a mornings hunt I would return the wafer I was using back to the airtight container and use it again the next day.  The unused wafers would actually rejuvenate the used wafer.  After a few uses they would lose their effectiveness all together though.  I little water splashed on a diminishing wafer did wonders in rejuvenating it, making it possible to get a few more uses out of it.  A nine pack of wafers easily lasted me the entire season.
Along with Earth Scent other cover scent wafers offered by Hunter's Specialties are Western Sage, Natural Pine, White Oak Acorn and Natural Cedar.  They also offer wafers in Cow Elk Urine, BucRut scent and Doe Estrus.  I haven't tried any of the other scents besides the Earth Scent, but I would presume they would be just as effective and long lasting.