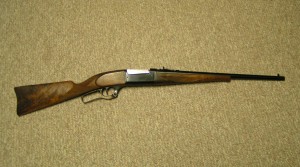 By John Hackett:
This month's featured "Old Gun" is a Savage Arms Model 1899 F-saddle ring carbine.  Savage made its famed 99 rifles for about 80 years, with some 30 different variations.
The Savage Repeating Arms Co. was formed in 1894 at Utica, N.Y.  The first production run of Arthur Savage's soon to be famous lever action rifle were actually made by Marlin.  The contract with Marlin included the first production run of rifles known as the Model 1895, and all the tooling Savage needed to manufacture the rifles himself.  When Savage started manufacture of the rifles himself a few minor changes were made to the design and became the Model 1899. 
The most commonly found variations of Savage's first production 1899's included a short & long round barrel model, a full octagon barrel, and a half octagon/half round barrel model.  Rarer are the saddle ring carbines, and even more rare are the few full stock military rifles produced during 1915.
Savage's 99 design was far stronger than other lever guns of the time period.  This allowed Savage to pioneer the use of high powered rounds using smokeless powder.   The .303 Savage was the first cartridge designed for the 99 and its ballistics was far superior to anything else on the market that was still using black powder loads.  Savaged ushered in the "high-power" rifle era with the introduction of the Charles Newton designed .250-3000 Savage round in 1913.  This was the first commercial round that exceeded 3,000 feet per second.  This move secured Savage's place in the lever action rifle market for the next 80 years.
Our featured rifle is from the time period of Savage's first productions.  It was made in 1903 and is chambered in 30-30 Win.  It was professionally restored in about 1985.  The restoration does hurt the value a bit, but not a lot.  Finding original 1899's in excellent condition is tough.  At this time in history people bought rifles to use, and use them they did!  Most specimens found today have less than 50% or their original finish.  I would place the value on this particular 1899 F-saddle ring carbine in the $800 to $900 range.  You could add a bit more if it was chambered in .303 Savage.