By Steve Weisman
Outdoor Writer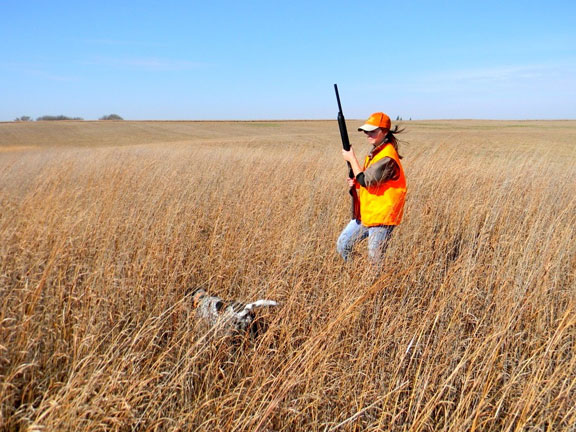 At this point in my life, if I couldn't pheasant hunt behind a good dog, I don't really think I would go out very much. For one thing, getting a bird up in heavy cover without a dog is just about impossible. Plus, one of the greatest joys for me is to watch a good dog put the pieces of the puzzle together as it follows a wildly zigzagging pheasant attempting to throw off the dog's efforts.
One thing I have noticed, though, is how much hunters push through a field. Whether it's because we're hunting public land and trying to beat another hunting party, or we're limited in our hunting time and need to keep pushing, or because we want to cover a lot of territory or just because…we have a tendency to put the hammer down. Although I know better, I get caught up in doing this very thing.
Reasons to slow down
During Iowa's opening weekend, I reflected on this issue as my family and I hunted. There were four of us and three dogs. We lined up and moved along with the dogs, keeping them moving forward. We hunted an 80-acre parcel of CRP, making a pass up on one side and then a pass back down the other side of the field with very little success. The dogs got birdy here and there, but we only bagged one rooster.
It was at this point that I spoke up and said, "Let's move through the middle, slow it down some and let the dogs work. Instead of walking in a line, pushing the dogs in front, let's move with the dogs and follow them…whether they cross an area we have already hunted or are going to walk on the way back, let's follow them."
The results? Three roosters in the bag, two more missed and several hens flushed. It brought home an important fact – that I've known for years, but without a dog (going with others and their dogs) for the past two years, I had just kind of gotten out of the habit.
You see, this whole pheasant hunting thing is about the dogs. They are the pros in the field, and we humans are just along for the ride and the chance to bag the flushing pheasants. We don't see what they see, we don't hear what they hear and we certainly can't smell what they smell. While it is true that we need to control how far they range, we need to trust their instincts.
As much as we hunters want to push ahead to get at those pheasants, we need to display patience. Let the dogs work, give them a chance to come back through an area from different angles to help them pick up the pheasant's scent.
If we don't, a wily ringneck can sit, and I mean sit, and let hunters and dogs move right on by. However, if we work and rework areas, we are giving our dogs the chance to come across this bird.
Plus, if a bird is a runner, the dog needs to have the latitude to follow that bird until the bird's nerve is broken and they flush. It is here, however, that the dog has to have been trained to slow it down enough to allow the hunters to keep up.
Slowing everything down also gives the hunters a break, so that we're not literally on a race-walk pace.
Instead, we're able to take in the entire experience and enjoy the work of our dogs.
Editor's Note: Steve Weisman, a retired teacher, is a member of OWAA and AGLOW and has been a free lance outdoor writer for the past 19 years. He writes for several publications throughout the Midwest. A true outdoorsman, Steve enjoys sharing news about the outdoors through his own experiences and the information gained from DNR wildlife and fisheries biologists and outdoor experts. Contact Steve at stweis@mchsi.com.