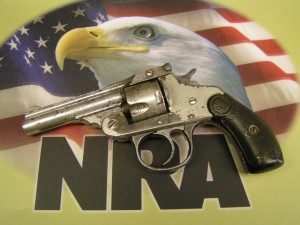 By John Hackett:
Iver Johnson was a Norwegian immigrant that left a century long imprint on the American gunmaking landscape.  Johnson's innovative designs lasted the test of time.  One in particular was the use of a "safety" on numerous Iver Johnson revolvers.
Johnson's gunmaking career began with the famed New England maker Ethan Allen.  In 1871 Johnson teamed with Martin Bye and formed Johnson Bye & Company in Worcester Mass.  In 1883 Bye left the firm and it became known as Iver Johnson & Company.  In 1891 the company was relocated to Fitchburg Mass. and became known as the Iver Johnson Arms & Cycle Works.  At this time, as the name states, Johnson was indeed also engaged in the manufacture of bicycles.  The firm also dabbled in motorcycles for a short time.  The "& Cycle Works" was dropped in 1940 when that part of the factory was closed.  In 1971 Iver Johnson Arms moved to Middlesex New jersey.  At the time of final closure of operations in 1993 the company was owned and operated by American Military Arms Corp. (AMAC).  Recently the Iver Johnson name was resurrected as the Iver Johnson Arms, Inc. of Rockledge Florida.
Most of Iver Johnson's production was low cost revolvers and shotguns.  They were sold by various hardware and sporting goods outlets throughout the U.S. under numerous "brand names".  The most common of which were Eclipse, Favorite, Ty Coon and Encore.  Iver Johnson firearms were low cost, but not necessarily low quality.  Iver Johnson maintained the same quality of manufacturing of their own company marked guns as they did their brand name ones.  Unlike other firms at the time which show a marked difference in quality.
Johnson's greatest innovation to the gunmaking world was the aforementioned "safety" he pioneered for use on his revolvers.  His safety is the same type mechanism known as a "transfer bar", used later in H&R shotguns and today in most modern revolvers, such as Ruger.  The safety blocks the hammer from making contact with the firing pin unless the trigger is actually pulled.
This feature set the stage for Iver Johnson to become one of America's most prolific revolver manufactures.  Sales were boosted by Iver Johnson's "Hammer the Hammer" ad campaign boasting his revolvers ability to prevent accidental discharge.  The early ads show a gun owner taking a carpenters hammer and actually beating on the guns hammer to prove their point!
Other ads run show that Iver Johnson wasn't as concerned about "political correctness" as we seem to be today.  I can't imagine a company today using the phrase "cruel, lurking, murderous beast" to refer to a potential assailant.
A couple negative footnotes in history are that Iver Johnson revolvers were used in two high profile assassinations. And like the old Iver Johnson ads, each reaction from political leaders showed a stark difference in the times.
In 1901 President William McKinley was murdered by Leon Czolgosz who used a .32 Cal. 2nd Model Safety Automatic.  Congress at that time enacted legislation to put the Secret Service in charge of the Presidents safety.  Czolgosz was put to death in the electric chair less than two months later.
In 1968 U.S. Senator Robert Kennedy was killed by Sirhan Sirhan.  Sirhan used a .22 LR Cadet 55-A 8-shot revolver.  Politicians at this time made an outcry for more gun laws.  Sirhan also received the death penalty, but it was commuted to life three years later.  In 2011 Sirhan was denied his 14th attempt at parole.
Values of Iver Johnson revolvers seem to be as varied as the total number of variations they made.  Most models are sold as keepsakes of a bygone era of American history and bring very little.  The featured Iver Johnson is a 3rd Model Safety Automatic.  It was made sometime around 1910 to 1920.  It shows typical wear for a 100 year old gun.  Its value should be in the $150 to $200 range.