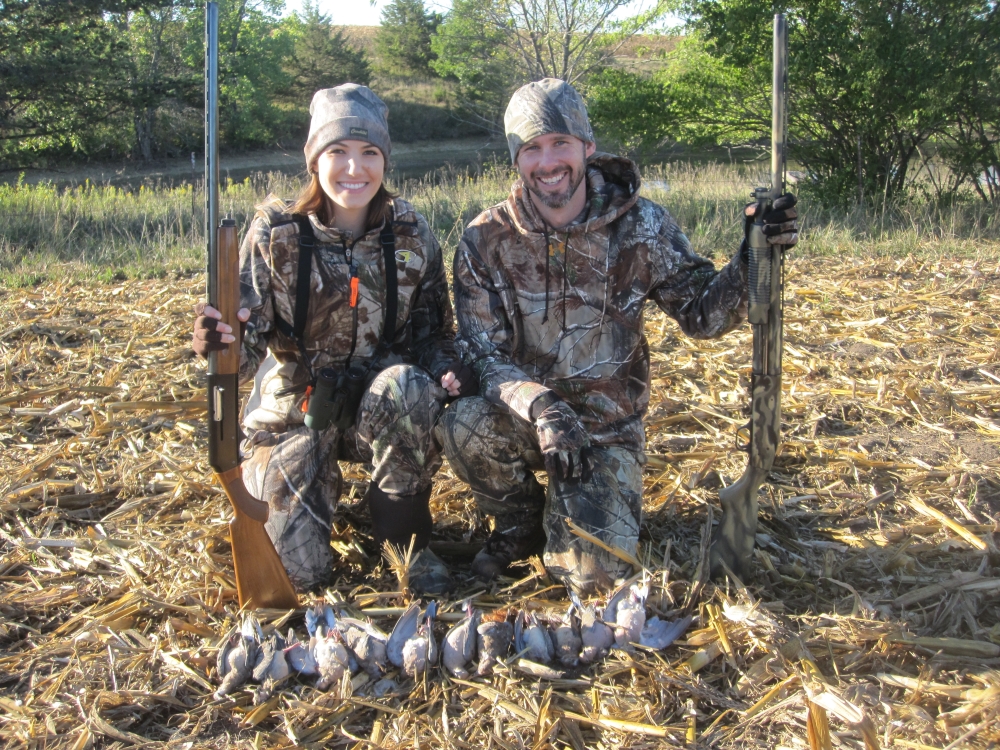 In 2011, I remember all the anti-hunter comments against dove hunting, and I am so proud of Iowa for doing what's right and becoming the 42nd state to have a dove season (it was about time!). Mourning doves are the most abundant game bird in the United States, and can be found in all 99 Iowa counties. Last year was great timing to open a season since pheasant numbers continue to be low and dove hunting provides an added opportunity, especially for hunters of any age or experience level. And with added hard times to the economy and rising costs of everything, including costs to hunt, hunting doves only requires simple equipment and moderate physical activity. It's also notable that doves have a short lifespan of only 12 to 18 months so hunting does little to their numbers.
Last year with a brand new season approaching, it was neat to see how everyone was so excited, including my family of bowhunters! This new opportunity peaked our interest as well, and for the first time, we were purchasing shells and decoys alongside wingshooters. Unfortunately, we didn't make it out last year, but we were sure to this year, and after experiencing it for the first time, I am even more impressed with dove hunting!

On September 1st, the first day of open season, my brother went along with friends to one of the DNR dove food plots… he had a BLAST and no problem of filling his daily limit of 15 doves in the early morning. It was awesome to hear the excitement in his voice as he told us about the gobs of doves that came to this field and all the hunters around the field. It's great to see so many involved in the new season and how the DNR's efforts are paying off.
So the next day, we were excited to try out dove season for ourselves at home. My dad has a small field of corn right off a pond that he had recently combined, so that was our starting point. The biggest problem was there were so many fields around that it was difficult to attract them to our field. However, we still did get shots for our first experiences and were able to harvest three doves! Three isn't much, but when you think of it for our first time out and that my dad, at 59 years old, harvested his first dove… I think that's pretty special. One thing that did help was our mojo, motorized decoy. This movement really was worth the money and brought some doves in even with our less-than-perfect field setup.
The next weekend, we were ready to get back at it. However, we made an adjustment that definitely paid off. My dad mowed an area of the same combined corn field, exposing more bare dirt and corn. This time we were able to harvest 11 doves between four of us (and my dad and me sharing a gun)! And this time I was able to get my first dove!
Cleaning and Eating!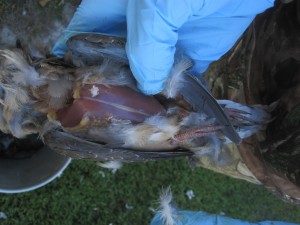 I've received several comments of "why would you" when it comes to hunting doves. Yes, they are small, but it's similar to fishing for a mess of panfish for a delicious fish fry… I'd don't think anyone would say "why would you" for that meal!
Also, the doves were SO EASY TO CLEAN! With your fingers, just pull the skin apart on the breast to expose the meat. Then with a fillet knife, use the tip to cut down along one side of the breast bone. Then when you are to the bottom of the breast, angle your knife to cut the rest of that breast meat completely off. Repeat on the same to the other side of the breast bone.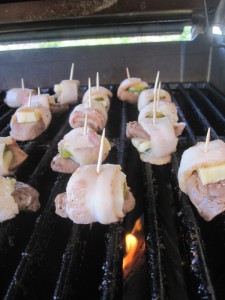 When it comes to preparing the meat, of course there are different ways of cooking but we tried a grilling recipe. Take one breast, add a small piece of pepper jack cheese on top, then a slice of jalapeno pepper (optional) and wrap it all with a slice of bacon. To keep it all together, stick a toothpick through it. DELICIOUS!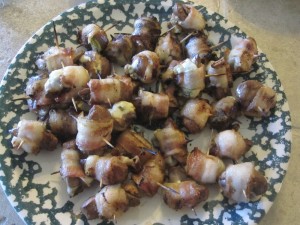 IOWA DOVE SEASON IS STILL GOING ON THROUGH NOVEMBER 9th – so get out there and give this great way of hunting a try, if you haven't already! Believe me, you'll go through A LOT of shells, but what a great way to get people exciting and interested in hunting!
~Jen
TrailCamTrophies.com
Dove Hunting Guide and Tips from the Iowa DNR
More Iowa Dove Season Information