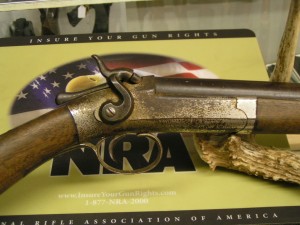 By John Hackett:
Forehand & Wadsworth of Worcester Mass. Was in operation from 1871 to 1890. They were mostly known for their handguns. They made a couple models of derringers, and several models of full size and pocket revolvers. The most popular of the Forehand & Wadsworth revolvers at the time were the brand name guns they made; Terror, Swamp Angel, and American Bulldog. Forehand & Wadsworth did make a couple other guns though, a falling block type rifle, some side-by-side shotguns, and the pictured single shot shotgun.
Forehand & Wadsworth single shot shotguns seem to be somewhat scarce. In my 30 years or so of collecting and working on guns this is only the second example I have seen. This particular piece has a damascus twist barrel and a nickel plated receiver. I have seen some examples of single shot shotguns made by Forehand & Wadsworth's successor company Forehand Arms Co. with fluid steel barrels, but not with the unique side hammer configuration.
The firm Forehand & Wadsworth has it's gunmaking roots planted deeply in American history. It's lineage dates back to 1831 in Grafton Mass. This is when the famed gunmaker Ethan Allen started his career. Allen was one of the first American producers of commercial handguns with interchangeable parts. The first guns were simply marked E. Allen, Grafton Mass. This, by the way is not the same Revolutionary War hero Ethan Allen
In 1837 Allen's brother-in-law joined the company and the name was changed to Allen & Thurber. In 1842 the company was moved to Norwich Conn. The company was again moved in 1847 to Worcester Mass. Where it remained until 1902.
In 1854 the name was changed to Allen, Thurber & Co. when Allen's other brother-in-law, Wheelock, became a full partner in the company.
When Thurber retired in 1856 the company became known as Allen & Wheelock.
Wheelock died in 1864, and later that year, or the next, a new partnership was formed with Allen's son-in-laws, Forehand and Wadsworth. The company was then known as Ethan Allen & Co.
The name was changed to Forehand & Wadsworth in 1871 after Allen's death.
Once again the company name was changed to Forehand Arms Co. in 1890 when Wadsworth retired.
Forehand Arms Co. continued until 1902 when it was taken over by Hopkins & Allen Mfg. Co. of Norwich Conn. In the meantime, Forehand died in 1898. There seems to be no relation between the "Allen" of Hopkins & Allen and Ethan Allen associated with this month's "This Old Gun".
The early Ethan Allen handguns, mostly the pepperboxes he made, have tremendous collector interest and warrant high values. Later guns made by his successor companies not so much. Most, like the featured Forehand & Wadsworth single barrel shotgun are simply interesting specimens of a bygone era, and most are purchased as such. Due to it's uniqueness, and somewhat obscurity, I would give this shotgun a value of somewhere in the neighborhood of $200. If the right collector needs this particular piece to round out a collection it may fetch as much as $400.