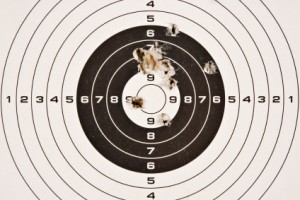 "Beat the Blind Guy" challenge.
The 2012 Northwest Iowa Outdoors postal shooting matches are now underway and Bob Farmer of Kingsley Iowa has thrown down the gauntlet among competitors with his "Beat the Blind Guy" challenge.  Bob has issued a decree that he will donate $1 to Whitetails Unlimited for any participant that beats his score in this years "through the mail" shooting competition.
Bob has been suffering with Retinitis Pigmentosa for about the last seven years.  Retinitis Pigmentosa is a disorder that affects the eye's peripheral vision,  It has left Bob legally blind.  He has not let this disorder stand in the way of his life long passion of the shooting sports.
About Bob's challenge he said, "Hey, anyone can shoot, even the blind guy".  "There's a lot of good shooters out there, and I want them to prove how good they are."  For every shooter who does top Bob's score he will donate $1 each to the Anthon Iowa chapter of Whitetails Unlimited.  Bob said, "This is great way for people to get out to the range, have some fun, and maybe raise some money for a good organization."
This years postal matches are expected to top 100 shooters from around the region.  Bob's confident enough in his shooting skills that his donation won't be too high.  Having spoken to a few of Bob's shooting partners, it seems to me that each competitor is going to have to work pretty hard to get that dollar out of Bob; as he is an accomplished marksman.
Bob's challenge is good for all the rifle and pistol discplines offered.  Check under the "shooting" tab above for more information on the Northwest Iowa Outdoors postal matches.