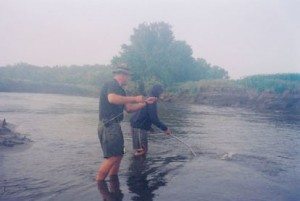 By: Drew Hackett
They go by many names; ditty poles, ditty lines, bank lines, throw lines, tagged lines, trot lines, but the overall goal is the same, to catch a ton of fish without actually fishing. Bank and trot lines are to fishing what trapping is to hunting. You set your lines in the river and come back later to retrieve your catch.
Let's start with bank poles. A bank pole is pretty much just that, a pole stuck in the bank with a line and hook. Many things can serve as the pole; pvc pipe, metal fence posts, even old fishing rods, but a fresh cut 8-10′ sapling makes the best bank pole, and you're not polluting the river if you happen to lose one. You'll want to use a length of line about equal to that of your pole, with braided being the most durable to withstand hours of twisting and pulling from a lunker catfish. You can use any sort of hook you want but I would advise using a circle hook. From my experience the circle hook's bite-to-hookup ration is at least 90%. If a cat bites, he will be hooked in the corner of the mouth almost every time.
Remember, you are targeting catfish, so bait your bank pole with pretty much anything that stinks. I find that fresh cut bait works the best because it stays on the hook. An empty hook makes for a worthless bank pole.  I have also used soap bait with some success, but really nothing beats a freshly cut creek chub or sunfish.
You can place your pole pretty much anywhere, cut banks seem to produce the best. Don't fall for the notion that you absolutely need deep water, I have caught many cats in 2 feet of water using bank poles.  Poke your pole at least a foot into the bank and leave it tipped upward. If you leave it parallel with the water you will surely lose your pole. Keep your bait skimming the surface. When a cat surfaces and plunges down with your bait the sapling will give some, and then snap back, setting the hook for you. The flex in the sapling will "play" the fish for you until you arrive to retrieve your bounty.


Now on to trotlines. A trotline consists of a main line with drop lines that snap into your main line. You can use 550lb parachute cord or thick braided line for the main line and 3/0 barrel swivels. To build the trotline you start by sliding all of your swivels onto the main line, you are allowed 15 total in Iowa for all your trotlines combined. Then starting about 6 feet from the end of the line, tie an overhand knot. Slide one of the swivels back against that knot, then tie another overhand knot on the other side of the swivel as close to the swivel as you can. You should end up with a knot/swivel/knot combination. This will allow the swivel to rotate freely without twisting up your main line. You can space the swivels as far or close as you'd like but I recommend at least 3 feet of separation. Finally you will need some weight to hold your line in place. I recommend using a brick or at least four 3oz sinkers too keep your into place.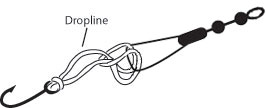 I generally like to set my trot lines off sandbars located on inside bends opposite to a high bank. A sandbar that has a cut edge to it will produce better than one that graduates into the water. I do not recommend throwing your trot line to set it, unless you have your needle nose handy to dig the hooks out of your hand and leg. I generally wade out or use my boat to set the lines. You can tie your line to anything that will poke into the ground. A green stick works good, I use 2′ lengths of rebar with my name tag taped around it.
There are specific regulations for trot lines and bank poles. Below are the rules from the 2012 Iowa DNR regulation book.
"Trotlines" as used in this section refers to those lines commonly called "tagged lines," "throw lines," "banklines," "ditty lines," "ditty poles" and other names.
You can use trotlines in all rivers and streams of the state, except those in Mitchell, Howard, Winneshiek, Allamakee, Fayette, Clayton, Delaware, Dubuque and Jackson counties. Trotlines may be used in the above nine counties only in the following stream sections: Maquoketa River, mouth to Backbone State Park dam; North Fork Maquoketa River, mouth to Jones-Dubuque county line; Turkey River, mouth to Elkader dam; and Upper Iowa River, mouth to the first dam upstream in Winneshiek County.
With a valid sport fishing license you cannot use more than five trotlines. These trotlines cannot have more than 15 hooks total. Each separate line must have a tag attached, plainly labeled with the owner's name and address. You must check the line at least once every 24 hours. All trotlines and parts thereof shall be removed from the shore when not being actively fished. A trotline shall be considered actively fished if at least once daily the trotline is left with at least one baited hook in the water. You cannot use trotlines in a stocked lake or within 300 feet of a dam or spillway, or in a stream or portion of stream which is closed or posted against its use. One end of the line must be set from the shore and visible above the shore waterline. You cannot set the line entirely across a stream or body of water. Untagged or unlawful lines can be confiscated by any conservation officer.