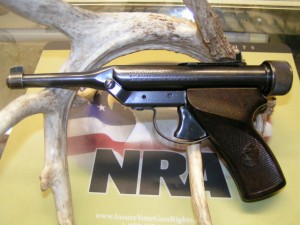 By John Hackett:
This month's feature gun is a Hy-Score Arms Co. model 800 air pistol.  Hy-Score was in operation in New York City from 1947 to 1970.  They imported a great number of air pistols and rifles from Europe during their years of operation.  The pictured model 800 was however made right here in the U.S.
The 800 is a single shot that fires a .22 cal. Pellet.  It is a spring-piston design that is cocked by releasing a button on the side of the frame and pivoting, or cocking, the muzzle of the gun downward.  After cocking and the barrel is locked back into place, the pistol is ready for loading.  To load you turn the large knob at the breech clockwise to open the chamber.  With the muzzle pointed down, a single pellet is dropped in, and the knob is then turned back counter clockwise.  The pistol is now ready to fire.
The barrel address on this Hy-Score pistol clearly states it is a "Target Model".  The term "target" is somewhat subjective at best.  It was mostly used as a sort of a sales gimmick.  According to collectors who actually shoot these guns they generally only get 2" to 2.5" groups at 10 meters.
U.S. made Hy-Score air guns have garnered favor with collectors over the years due to their somewhat scarcity and the quality of manufacture.  This particular pistol is valued at about $100 to $125.  Specimens with the original box have sold for upwards of $180.