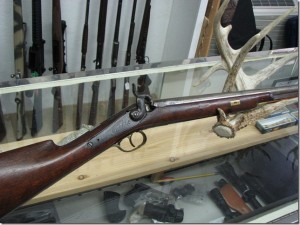 By John Hackett:
This month's "old gun" is an old fowling piece dating back to the early to mid 1800's. The term fowling piece is generally referred to any smooth bore long arm specifically designed to fire multiple pellets. Fowling pieces could fire a single patched ball also. A lot of times these smooth bore guns were also referred to simply as muskets. Most of the time to gain the musket term the piece would require some form of sights. Calling this particular piece a fowling piece as opposed to a musket is open for debate.
The percussion lock is marked "Wm Read" "Boston". The smooth bore barrel is .58 cal., or about 20 ga., and is marked "L. Hemenway". The gun retains a lot of its original finish. Even though the lock is marked "Read" and the barrel is marked "Hemenway" does not necessarily mean that the gun is not original.
This particular firearm is what was called a "trade gun" at the time. Local gunsmiths who did not have the resources, i.e. machinery or steel, would purchase pre-manufactured locks and barrels from specialty gunsmiths and then do their own stock work to complete the gun. Most times the gunsmith would not mark their piece. The gun would only bear the markings of the lock or barrel makers.
Other times local gunsmiths would take damaged guns and re-fit them with new components. As percussion locks were gaining popularity a lot of older flint locks were converted, or fitted with new locks all together. There is no evidence on this particular gun that shows it was anything ever but a percussion.
Trying to determine the actual age of these types of firearms is difficult at best without the presence of a well known maker. The lock on this particular gun is what is called Back Action Lock. They first appeared in the 1830's and were in common use by the1850's. By the 1880's few guns were made using this type of lock.
I could find no records of a William Read operating in Boston during this time period. Records do show a William Read in Maryland c.1775-1802, but these guns would have been flint locks. The percussion cap wasn't introduced until about 1830. It is possible we are dealing with a descendant. Like all other trades at the time, gunsmithing was passed from father to son. I could find no records of a L. Hemenway barrel maker either. There were a lot of Hemenway's living in Vermont in the mid 1800's. It is possible this is where the barrel was made, but this is pure speculation on my part.
I would guess this particular gun was made around 1830 to 1850 based on the style. And it does have a New England "flare" to the stock design. The barrel under rib does not look to be original, but appears to be a repair that has been made many years ago. The stock does show some staining that may indicate that an original nose cap went missing. But over all the firearm is in very good condition for its age. I would estimate its value should be in the range of $300 to $400.