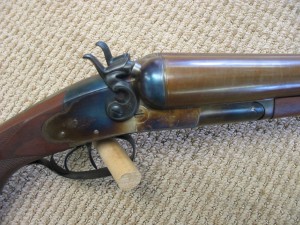 By John Hackett:
What we have for you this month is a L.C. Smith shotgun, before there was an L.C. Smith shotgun.  Confusing?  First we need to have a little history lesson on L.C. Smith.
Lyman Smith's entry into the gun manufacturing business was a partnership with his brother Leroy and W.H. Baker.  They formed the firm W.H. Baker & Co. in Syracuse N.Y. in 1877.  The company manufactured three-barrel and side by side guns of Baker's design.  These guns were marked W.H. Baker & Co.
By 1880 the partnership had dissolved.  Leroy Smith and Baker went their separate ways and left Lyman Smith in control of the business.  Lyman Smith continued making the Baker designed guns and were marked as "L.C. Smith, Maker of the Baker Gun".
In 1884 the Baker guns were replaced by the new hammer shotgun patented by an employee Alexander T. Brown.  This gun was same gun that became famous as the L.C. Smith shotgun.  During this time period the shotguns were marked as L.C. Smith Maker.
In 1888 L.C. Smith sold his business to John Hunter of Fulton New York.  Hunter Arms continued production until 1945 until the assets were sold to the Marlin Fire Arms Co. of New Haven Conn.  Guns at this time were marketed under the name of "L.C. Smith Gun Co.  Operations ceased in 1949.  Marlin reintroduced the L.C. Smith shotgun in 1967 made them until 1971.
W.H. Baker after leaving the original partnership went to Batavia N.Y. and started a new firm called the Baker Gun Co.  Baker introduced his new designs at this time.  It was this firm that produced the now famous Batavia Leader shotguns.
After L.C. Smith sold his gun making business to John Hunter he turned his interest into typewriters.  Today this company is known as Smith Corona.
Back to the shotgun at hand.  It has damascus barrels and is 10 gauge.  It has the unique Baker system of pushing forward on the front trigger to open the breech.  The barrel is marked "L.C. Smith, Maker of the Baker Gun", which puts manufacture from 1880 to 1884.  The gun saw a complete restoration in about 1985.
Placing a value on this particular shotgun is difficult at best.  With limited productions, and fewer surviving pieces, not many change hands regularly enough to track values.  This particular shotgun did sell in 2011 for $800.00.  This of course would be the best "real" value that can be attached.